9/11 Defendants Accuse Feds of Illegally Redacting Guard Testimony on Prisoner Treatment
Tuesday, February 23, 2016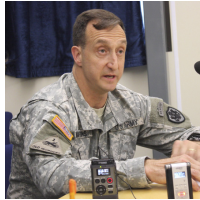 Chief prosecutor Mark Martins (photo: EPA)
By Lacey Johnson
FORT MEADE, Md. (Reuters) - Lawyers for five men charged with plotting the Sept. 11 attacks argued on Monday that government officials illegally redacted testimony about treatment of Muslim prisoners made during a pre-trial hearing at Guantanamo Bay.
The dispute arose over blacked-out testimony by a female guard in October about whether women guards at the U.S. military base in Cuba should be barred for religious reasons from touching Muslim prisoners.
Lawyers for the accused say prisoners' objections to being touched must be respected on religious grounds while a U.S. military official in December said the protests were an attempt to stall proceedings in the slow-moving 9/11 death penalty trial.
The guard, who used the pseudonym Sergeant Jinx, spoke in open court in 2015 about contact between female guards and Guantanamo Bay detainees. She detailed how a guard team would handle prisoners.
Intelligence agencies later scrubbed Jinx's statements from an online transcript that had been available to the public on a government website.
"It is very important that these things be open," said David Schulz, a New York media attorney. "It's how reporters who are unable to be here are able to follow these proceedings."
Schulz told Judge Army Colonel James Pohl that the transcripts were judicial records made in open court and the public had a constitutional right to view them.
The families of Sept. 11 victims and a handful of reporters viewed the testimony from Jinx during a live screening on Oct. 30.
"The horse went out the barn door, and now the government is trying to close the barn door," said Jim Harrington, an attorney for suspect Ramzi Bin al Shibh, a Yemeni man accused of wiring money to the Sept. 11 hijackers.
Chief Prosecutor Brigadier General Mark Martins said the transcript was not an official judicial record but a draft. He said experts determined Jinx's statements would be damaging to national security.
Almost 3,000 people were killed when hijackers slammed airliners into New York's World Trade Center, the Pentagon and a Pennsylvania field on Sept. 11, 2001.
The hearing at Guantanamo Bay was monitored by closed circuit television from a media center at Fort Meade, outside Washington.
To Learn More:
Lawyers for 9/11 Defendants Criticize Military's Selective Release of Torture-Related Documents (by Lacey Johnson, Reuters)
Female Guards once again Allowed to Touch Guantánamo Prisoners (by Danny Biederman and Noel Brinkerhoff, AllGov)