Secretary of State: Who Is John Kerry?
Saturday, January 26, 2013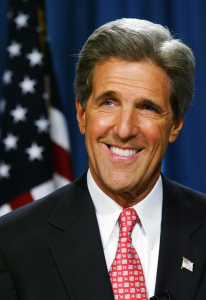 If the next Secretary of State seems to have been born for the role, he has nonetheless worked awfully hard to prepare for it. Sen. John F. Kerry (D-Massachusetts) is President Barack Obama's choice to succeed current Secretary Hillary Clinton, who will stay on until her successor is confirmed. The son of a Foreign Service officer who speaks fluent French, Kerry has been chair of the Senate Foreign Relations Committee the past four years. Having served 28 years in the Senate, Kerry is expected to sail through his confirmation hearing, which began January 24. In that event, the next ranking Democrat on the Committee—Sen. Barbara Boxer (D-California)—is in line to become the first woman to chair the committee.
"You have a guy who, from his earliest days, has been schooled in America's international role, both in war and in peace making," said former Sen. Max Cleland (D-Georgia), a close friend of Kerry's who lost both legs and his right arm in Vietnam. "He was born to be secretary of state. What you got here is a very rare human being who has been through the throes of the damned in war and in politics in a presidential election, and who has survived it all to come out on top."
Born December 11, 1943, in Aurora, Colorado, John Forbes Kerry is the son of Richard Kerry (1915–2000), who was serving as a test pilot in the Army Air Corps, and Rosemary (Forbes) Kerry (1913–2002), a World War II nurse and member of the wealthy Forbes family.
Kerry's ancestry reveals a unique marriage of the "Mayflower" and Ellis Island. Although the surname Kerry usually indicates Irish ancestry, Kerry learned in 2003 that his paternal grandparents, known to him as "Frederick and Ida Kerry," were born "Fritz Kohn" and "Ida Löwe" in the Austro-Hungarian Empire, changing their names in 1900 and converting from Judaism to Roman Catholicism. On his mother's side, Senator Kerry is the great-great-great-great-great-great-great-grandson of John Winthrop, who was one of the leading co-founders of the Massachusetts Bay Colony in 1630 and served as its first Governor.
Although the extended family was unusually wealthy, Kerry's parents themselves were upper-middle class. Growing up in Europe during his father's tours in Germany and Norway, Kerry biked around East Germany against his father's warnings, looked for shell casings on the beaches of Normandy, and spent summer vacations at his mother's family's estate in the Brittany region of France. A wealthy great aunt paid for Kerry to attend elite schools in Europe and New England, including the Fessenden School in West Newton, Massachusetts, and St. Paul's in Concord, New Hampshire, where he graduated in 1962. Kerry attended Yale University, where he earned a B.A. in Political Science in 1966 and became a member of the influential Skull and Bones secret society.
Although Kerry's experiences in Vietnam were crucial in forming his anti-war stance, he actually began questioning American foreign policy while at Yale, even as his father was working at the State Department. In March 1965, he won the Ten Eyck prize as the best orator in the junior class for a speech arguing that, "It is the spectre of Western imperialism that causes more fear among Africans and Asians than communism and thus, it is self-defeating." Chosen to give the class oration at graduation a year later, Kerry broadly criticized American foreign policy, especially the Vietnam War: "What was an excess of isolationism has become an excess of interventionism."
Despite his misgivings about the war, Kerry chose not to seek a deferment by staying in school or to join a National Guard unit unlikely to see combat. Instead, he enlisted in the Naval Reserve and served a four-month tour of duty in South Vietnam as officer-in-charge of a Swift Boat during 1968-1969. For heroic deeds during that service, he was awarded a Silver Star, a Bronze Star, and three Purple Hearts. On active duty in the Navy from August 1966 until January 1970, Kerry served in the Naval Reserve until February 1978. Kerry lost at least five friends in Vietnam, including Yale classmate Richard Pershing, who was killed in action on February 17, 1968.
Upon his return to the U.S., Kerry joined and became a nationally recognized spokesman for Vietnam Veterans Against the War, testifying before the Senate Committee on Foreign Affairs that American war policy in Vietnam was causing "war crimes," and asking, "How do you ask a man to be the last man to die for a mistake?" The next day, Kerry tossed his ribbons over a fence in front of the Capitol during an anti-war demonstration he organized.
After earning his J.D. at Boston College Law School in 1976, Kerry worked as an Assistant District Attorney in Middlesex County until co-founding a private firm in 1979. He served as lieutenant governor of Massachusetts under Gov. Michael Dukakis from 1983 to 1985, won a tight Democratic primary in 1984 for the U.S. Senate and became the junior senator from Massachusetts in January 1985.
In the Senate, Kerry focused much of his energy on foreign policy. On the Senate Foreign Relations Committee only two years, from 1987 to 1989 Kerry led a series of hearings that produced startling revelations about illegal American involvement with the right-wing paramilitary Contras in Nicaragua and initiated a series of investigations that unearthed the Iran–Contra affair. In 1990, he voted against the U.S.-led invasion of Iraq in retaliation for its invasion of Kuwait, and although he was an early backer of the 2003 invasion of Iraq, by the time of his presidential run in 2004 he had become an opponent of the war, some said for purely political reasons.
After winning the 2004 Democratic nomination, Kerry and running mate Senator John Edwards (D-North Carolina) lost a close election, finishing only 35 electoral votes behind President George W. Bush. When Sen. Joe Biden (D-Delaware) became Vice President in January 2009, Kerry became chairman of the Senate Foreign Relations Committee. Highlights of his chairmanship include guiding a new nuclear arms pact with Russia to confirmation and personally persuading Afghan President Hamid Karzai to agree to a runoff election after prematurely declaring himself the winner of first round elections.
Given President Obama's renewed attention to global warming in his Second Inaugural Address, Kerry's long involvement with the issue—he has attended at least seven international conferences on climate change over the past two decades—should give him a major voice in the administration's international efforts on the issue.
Kerry has been married twice, first to Julia Thorne from 1970 to 1988, and then to Teresa Simões-Ferreira Heinz, whom he married in 1995. Kerry has two daughters with his first wife, Alexandra and Vanessa.
-Matt Bewig
Roots of John Kerry's Secretary of State Ambition Lie in Wake of 2004 defeat (by Tracy Jan and Bryan Bender, Boston Globe)
Statement before the Senate Foreign Relations Committee Hearing on his Nomination (pdf)
John Kerry (biography at Johnkerry.com)