Secretary of Defense: Who Is Chuck Hagel?
Thursday, February 14, 2013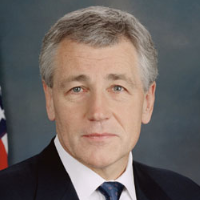 President Barack Obama's nominee for Defense Secretary will be the first former enlisted combat soldier to run the Pentagon, but his own party opposes him. Nominated by Obama on January 7, Republican Chuck Hagel was approved by the Senate Armed Services Committee February 12 on a 14-11 party line vote to succeed current Secretary Leon Panetta.
Hagel's nomination has provoked unusual opposition from his fellow Republicans, including fellow Vietnam War vet John McCain (R-Arizona), who broke a close friendship with Hagel in 2007 over the Nebraskan's refusal to support President George W. Bush's Iraq troop surge. Although McCain has initially said he would oppose a filibuster, within days he threatened to join fellow committee members Lindsey Graham (R-South Carolina), Ted Cruz (R-Texas) and James Inhofe (R-Oklahoma) have threatened a filibuster. A filibuster is likely moot, however, because more than 60 senators have already indicated they will allow the nomination to come to a vote.
Born October 4, 1946, in North Platte, Nebraska, the son of Betty (née Dunn) and Charles Dean Hagel, he had three brothers, Thomas, Mike, and Jim, until Jim was killed in a car accident at the age of 16. .Chuck Hagel graduated from St. Bonaventure High School (now Scotus Central Catholic High School) in Columbus, Nebraska, in 1964, and the Brown Institute for Radio and Television in 1966. After a stint in the Army, Hagel earned a BA in History at the University of Nebraska at Omaha in 1971.
A Vietnam War veteran, Hagel served in the United States Army infantry as a squad leader from 1967 to 1968. A Sergeant (E-5), Hagel earned the Vietnamese Cross of Gallantry and two Purple Hearts. Home from the war, Hagel worked as a bartender, radio newscaster and talk show host in Omaha from 1969 to 1971 while attending college under the GI Bill.
Hagel's political career began in 1971 when he was hired as a staffer by Congressman John Y. McCollister (R-Nebraska), serving until 1977. From 1977 to 1980, Hagel was a lobbyist for Firestone Tire and Rubber Company, also serving as an organizer for Ronald Reagan's 1980 presidential campaign.
Rewarded for his support with the job of deputy administrator of the Veterans Administration in 1981, Hagel resigned in 1982 over disagreements with VA Chief Robert P. Nimmo, an eager budget cutter who had called veterans groups "greedy", and said Agent Orange was no worse than a "little teenage acne."
Back in the private sector, Hagel co-founded Vanguard Cellular, a mobile phone manufacturer, and became a multi-millionaire. While at Vanguard, he served as president and CEO of the United Service Organizations (USO), as deputy director and COO of the 1990 G7 Summit, and as chairman of the Agent Orange Settlement Fund.
In 1992 Hagel moved back to Nebraska to become president of investment banking firm The McCarthy Group. He was also chairman and CEO of American Information Systems (AIS), later known as Election Systems & Software, a computerized voting machine manufacturer partly owned by McCarthy Group.
In 1996, Hagel ran for an open U.S. Senate seat and became the first Republican in 24 years to win a Senate race in Nebraska. Promising in 1996 to serve only two terms, Hagel won re-election in 2002 with more than 83% of the vote. A conservative in the Senate, Hagel earned a lifetime rating of 84% from the American Conservative Union and A and B grades from the National Taxpayers Union. Among other important votes, Hagel voted for the Patriot Act, for the George W. Bush tax cuts of 2001 and 2003, and for the Iraq war resolution in 2002.
It was the Iraq war, and Hagel's growing dissatisfaction therewith, that caused the rift between him and his fellow Republicans that has become a chasm. For example, in August 2005, Hagel compared the Iraq War to Vietnam and mocked Vice President Dick Cheney's assertion that the Iraqi insurgency was in its "last throes." In July 2007, Hagel was one of only three Republican Senators who supported Democratic legislation mandating a troop withdrawal from Iraq to begin within 120 days.
During his time in the Senate, Hagel served as deputy whip for the Republican Caucus. He was chair of the Senate Global Climate Change Observer Group and the Senate Oversight Task Force, and co-chairman of the Congressional-Executive Commission on China. He served on four committees: Foreign Relations; Banking, Housing and Urban Affairs; the Select Committee on Intelligence, and the Committee on Rules and Administration.
Fulfilling a promise he made in his first campaign, Hagel retired from the Senate in 2008 after two terms. Since February 2009, he has been a distinguished professor in National Governance at the Edmund A. Walsh School of Foreign Service at Georgetown University. He published a book in 2008, America: Our Next Chapter: Tough Questions, Straight Answers, in which he called the Iraq War one of the five biggest blunders in U.S. history and criticized George W. Bush's foreign policy as "reckless," and "a ping pong game with American lives."
Hagel is chairman of the Atlantic Council, a foreign policy think tank, and co-chairman of President Obama's Intelligence Advisory Board. In the private sector, Hagel serves on the boards of directors of Chevron Corp. and Zurich Holding Company of America, the advisory board of Corsair Capital, and the Americas Advisory Board of Deutsche Bank. He is a director and senior advisor to McCarthy Capital.
In 1985 Chuck Hagel married Lilibet Ziller. They have two children, Allyn and Ziller.
-Matt Bewig
To Learn More:
Chuck Hagel Bio and Resume (Politico)
Why Republicans Should Welcome Chuck Hagel To The Pentagon's Top Job (by Loren Thompson, Forbes)
The Heartland Dissident (by Joseph Lelyveld, New York Times)