Director of the Federal Bureau of Investigation (FBI): Who Is Christopher Wray?
Thursday, August 03, 2017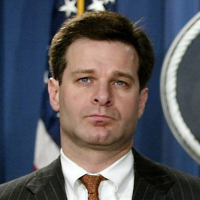 Christopher Wray (photo: AFP/Getty Images)
A month after President Donald Trump fired FBI Director James Comey—and admitted it was because of Comey's role in fostering the investigation into alleged collusion between the Trump campaign and Russian operatives attempting to throw the presidential election to Trump—the president announced via Twitter on June 7, 2017, that he would nominate Christopher Wray to the job.
On August 1, 2017, the U.S. Senate overwhelmingly confirmed Wray for the job. The 92-5 vote reflected bipartisan confidence in the commitment to independence expressed by Wray during his July 12 confirmation hearing, which had been a major concern of lawmakers in the wake of the Comey firing and Trump's alleged attempts to influence Comey's handling of the Russia investigation. In response to pointed questioning by senators, Wray promised that any attempt to influence the investigation under his watch would be viewed as "unacceptable and inappropriate" and be dealt with "very sternly." He added that he would "never allow the FBI's work to be driven by anything other than the facts, the law and the impartial pursuit of justice. Period."
Wray, who served in high positions at the Department of Justice between 2001 and 2005, recently represented New Jersey Gov. Chris Christie during the 2016 Bridgegate trial. Two of the governor's top aides were convicted of plotting to close lanes on the George Washington Bridge in order to retaliate against a Democratic mayor who refused to endorse Christie's reelection bid. Attorneys for the aides tried to track down Christie's personal cell phone, but no one seemed to know where it was. As soon as a judge ruled that the phone could not be subpoenaed by the defense attorneys, it was revealed that it was Wray who had possession of the phone all along. Although the trial ended in November, Wray continued to represent Christie well into June 2017. His law firm has collected more than $2 million in fees for the case.
Christopher Asher Wray was born December 17, 1966, in New York City, to Cecil Wray Jr., a partner at the Debevoise and Plimpton law firm, and Gilda (Gates) Wray, a program officer for the Charles Hayden Foundation. He attended the tony private boarding school Phillips Academy in Andover, Massachusetts. Wray earned a B.A. at Yale University in 1989, and a law degree in 1992, also at Yale, where he served as executive editor of the Yale Law Journal.
After graduating, he served as a law clerk to Judge J. Michael Luttig of the U.S. Court of Appeals for the Fourth Circuit from June 1992 to June 1993.
Entering private practice after a summer hiatus, Wray was an associate at the law firm of King and Spalding in Atlanta from September 1993 to May 1997, working in the firm's general litigation practice.
From May 1997 to May 2001, Wray served as an assistant U.S. attorney for the Northern District of Georgia, working in the Criminal Division.
Wray relocated to Washington, DC, in May 2001 to serve the Department of Justice (DOJ) as associate deputy attorney general. In September 2001, he was appointed principal associate deputy attorney general, with oversight responsibilities across the department.
Wray served from 2003 to 2005 as the assistant attorney general in charge of DOJ's Criminal Division, working under Deputy Attorney General James Comey. His responsibilities included briefing Attorney General John Ashcroft about the investigation into the George W. Bush administration's leaking of Valerie Plame's status as a CIA agent. In 2004, Wray was one of the DOJ officials, including Comey and FBI Director Robert Mueller, who threatened to resign when the Bush administration attempted to revive a National Security Agency domestic surveillance program that DOJ had determined was illegal.
In 2005, Wray returned to King and Spalding as a partner and head of its government investigations practice, which specializes in white-collar criminal defense, civil and regulatory investigations, and corporate internal investigations. Although his job included defending white-collar clients, he spoke publicly in favor of prison sentences for corporate financial fraud, stating, "The severity of the sentences serves as an ominous reminder of the consequences of misconduct. Executives engage in cost-benefit analysis every day. It's not surprising that they would be more responsive to deterrence."
Trump already appointed another King and Spalding partner for a position in his administration: Gil Kaplan as director of the International Trade Administration. Former King and Spalding partner Dan Coats is Trump's director of national intelligence, and another King and Spalding partner, Bobby Burchfield, is ethics adviser to the Donald J. Trump Revocable Trust.
Wray deleted information from his online law firm bio regarding work he did that was adverse to the government of Russia. The law firm insists, however, that Wray did this in January 2017, before he was nominated to the FBI. But that explanation does not rule out the possibility that he was hoping for some nomination and wished to hide the anti-Russia information.
Wray is a member of the conservative Federalist Society, and has donated to Republican candidates for office, including three who are now high-ranking members of the Trump administration: Tom Price, who is currently the secretary of health and human services, Director of National Intelligence Dan Coats and Sonny Perdue, who is secretary of agriculture.
He married Helen Garrison Howell, a Yale classmate and former debutante whose father was a vice president at First National Bank of Atlanta, in 1989. They have two children, Caroline and Trip, and reside in Georgia.
-Matt Bewig, David Wallechinsky
To Learn More:
FBI Director Nominee Removed Reference to Case Involving Russian Government from Law Firm Bio (by Andrew Kaczynski, CNN)
Meet Christopher Wray, Trump's Pick for FBI Director (by Sonam Sheth and Veronika Bondarenko, Business Insider)
Trump Makes His Choice for FBI Director, and Knowledgeable People Aren't Horrified (by Leon Neyfakh, Slate)
The Power of the Corporate Charging Decision over Corporate Conduct (by Christopher A. Wray and Robert K. Hur, Yale Law Review)
Corporate Criminal Prosecution in a Post-Enron World: The Thompson Memo in Theory and Practice (by Christopher A. Wray and Robert K. Hur, American Criminal Law Review)