Director of National Intelligence: Who Is Dan Coats?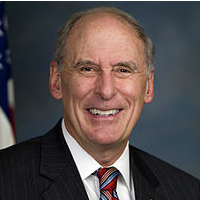 Dan Coats
Dan Coats, who was a member of the Senate Intelligence Committee before retiring from the Senate in 2016, was nominated on January 5, 2017, to be director of national intelligence. On March 15, the U.S. Senate confirmed him by a vote of 85 to 12.
Coats was born May 16, 1943, in Jackson, Michigan, to Edward and Vera Coats. He graduated from Jackson High School in 1961 and went to Wheaton College in Illinois. There, he was on the soccer team and met the woman who would become his wife, Marsha. Coats graduated in 1965 with a B.A. in political science. He was drafted the following year and spent two years in the Army, leaving with a rank of staff sergeant. When he left the service, Coats went to law school at Indiana University. He earned his J.D. in 1971 and went to work for a life insurance company in Fort Wayne, Indiana.
In 1976, he was made director of the Indiana office of Rep. Dan Quayle (R). When Quayle moved to the Senate in 1981, Coats was appointed to fill his House seat, and when Quayle was elected George H.W. Bush's vice president in 1988, Coats was appointed to fill Quayle's Senate seat. Coats won the seat on his own in 1992.
Coats declined to run for re-election in 1998 when Democrat Evan Bayh threw his hat into the ring. Instead, Coats went to work for the law firm of Verner, Liipfert, Bernhard, McPherson and Hand as a lobbyist in 1999.
When George W. Bush assumed the presidency in 2001, Coats was said to be on the short list to be secretary of defense. Instead, that job went to Donald Rumsfeld and as a consolation prize, Coats was named ambassador to Germany.
Coats returned to the U.S. in 2005 and was asked to shepherd the Supreme Court nomination of Harriet Miers through the Senate. When discussing Miers' fitness for the job on CNN, Coats didn't do the nominee any favors when he said, "If great intellectual powerhouse is a qualification to be a member of the court and represent the American people and the wishes of the American people and to interpret the Constitution, then I think we have a court so skewed on the intellectual side that we may not be getting representation of America as a whole." Miers' nomination was later withdrawn and Coats successfully led the effort to get Samuel Alito confirmed to the bench.
Coats then returned to lobbying, this time with the firm of King and Spalding. Coats represented General Electric, Google and other companies in the pharmaceutical, defense and energy industries. He also represented electrical products manufacturer Cooper Industries when that company was fighting to keep a tax break after it had moved its corporate headquarters from Texas to Bermuda. Coats was successful in saving Cooper's tax break.
Indiana voters returned Coats to the Senate in 2010 and he had spots on the intelligence, armed services and labor and human resources committees. In 2014, Coats fought for tough sanctions against Russia after its invasion and annexation of Crimea. He was subsequently put on a list of those forbidden by the Russian government to travel to that country. "While I'm disappointed that I won't be able to go on vacation with my family in Siberia this summer, I am honored to be on this list," Coats said.
Coats is socially very conservative. He was a member of the secretive The Fellowship (or The Family), a Christian group that includes many conservative lawmakers and has promoted a fundamentalist agenda in the United States and around the world, including anti-gay laws in African countries. Coats fought the idea of gays serving openly in the U.S. military in the 1990s and voted against the repeal of the "Don't Ask, Don't Tell" policy in 2010. He once called same-sex marriage a sign of "deep moral confusion." In February 2016 he co-sponsored the Life at Conception Act that proposed protection under the 14th Amendment for preborn human beings.
In 2015, Coats backed a bill that expanded cyberthreat data-sharing between the government and the private sector. The proposal alarmed privacy advocates. He also voted against killing the USA Freedom Act, the National Security Agency's bulk-phone-data collection program.
Coats is the author of the 1998 book Mending Fences: Renewing Justice Between Government and Civil Society, based on a lecture he gave the previous year.
Coats' wife, Marsha, served as the Indiana Republican National Committeewoman. In 1999 they founded the Foundation for American Renewal. The couple have three adult children: Laura, Lisa and Andrew. They also have ten grandchildren.
-Steve Straehley
To Learn More:
Trump Is Expected to Nominate Ex-Senator Dan Coats for Director of National Intelligence (by Sean Sullivan and Anne Gearan, Washington Post)
Trump to Tap ex-Sen. Dan Coats as Intelligence Chief (by Eric Geller and Cory Bennett, Politico)
A Journey From Lawmaker to Lobbyist and Back Again (by Eric Lipton, New York Times)