Director of the Defense Intelligence Agency: Who Is Robert P. Ashley Jr.?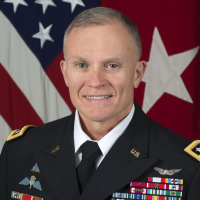 Robert P. Ashley Jr.
Army Lieutenant General Robert P. Ashley Jr., who has spent most of his career in Army intelligence, took over as director of the Defense Intelligence Agency on October 3, 2017. Defense Intelligence Agency (DIA) is the top spy agency in the Department of Defense, and provides information on foreign military capabilities. The DIA has about 16,500 employees with offices in more than 140 countries.
Ashley has spoken in favor of doing a better job of tracking information shared on social media and of sharing information with allies. Ashley replaced Marine Corps Lt. Gen. Vincent Stewart, who had served as DIA head since January 2015.
In his farewell statement, Stewart's advice to Ashley was to "Keep telling truth to power." To the DIA workforce, he said, "No matter what the challenges, the adversity or the objections, always speak truth to power, no matter the cost. Speak truth through your actions. Speak truth through your analysis. Speak truth through your tradecraft and standards. Never lose sight of it, because unless we are forthright, honest and candid we cannot fulfill our oath."
Ashley came into the military via the Reserve Officers Training Corps at Appalachian State University in North Carolina. He graduated from there in 1984 with a B.A. in political science and was commissioned a second lieutenant in the Army. Ashley subsequently earned master's degrees in strategic intelligence from Defense Intelligence College and in strategic studies from Army War College.
Ashley's first assignment was as a platoon leader in a military intelligence battalion in Fort Bragg, North Carolina. He worked his way up the chain of command, mostly in intelligence units. As a colonel, he led the 525th Battlefield Surveillance Brigade in a 15-month deployment to Iraq in 2007-2008. After that, he was director of intelligence for the Joint Special Operations Command at Fort Bragg. In 2009, he was promoted to brigadier general. In June 2010, Ashley was put in charge of intelligence for the U.S. Central Command headquarters at MacDill Air Force Base in Tampa, Florida. His next assignment, in 2012, was as deputy chief of staff, intelligence for the International Security Assistance Force in Afghanistan. Shortly thereafter, he was moved up to major general.
In April 2013, Ashley took over as commandant and base commander of the Army Intelligence Center of Excellence at Fort Huachuca, Arizona. He achieved lieutenant general status in 2015. His next assignment was at the Pentagon as deputy Army chief of staff in charge of intelligence, counterintelligence and security. He held that post at the time of his nomination to DIA.
Ashley and his wife, Barbara, have two sons: Sean and Justin.
-Steve Straehley, David Wallechinsky
To Learn More:
Lieutenant General Robert P. Ashley, Jr., Class of 1984 (Appalachian State University)