Director of the Defense Intelligence Agency: Who Is Vincent Stewart?
Tuesday, January 10, 2017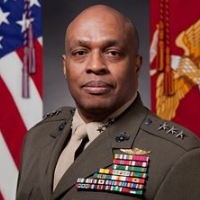 Vincent Stewart
Marine Corps Lt. Gen Vincent Stewart was named on January 23, 2015, to lead the Defense Intelligence Agency (DIA). Stewart is the first Marine, and the first African-American, to hold that position.
Stewart was born in Kingston, Jamaica, and lived there until 1971, when he was 13. He attended Kingston College for secondary school, then went on to Western Illinois University, where he earned a B.A. in history in 1981. After taking ROTC, he was commissioned a second lieutenant upon graduation. Stewart has also earned master's degrees, in national security and strategic studies from the Naval War College in 1994, and in national resource strategies from the Industrial College of the Armed Forces in 2002.
Stewart's first specialty was in tanks. His first post-training assignment was as a tank platoon leader. However, he moved into signals intelligence, which is the gathering of information from radio transmissions. Stewart's early duty assignments included company commander with Company I, Marine Support Battalion, Adak, Alaska, from 1986 to 1988; then company commander with Headquarters and Service Company, 2nd Radio Battalion; assistant operations officer, 2nd Radio Battalion; company commander with Company E, Marine Support Battalion, Misawa, Japan from 1992 to 1994.
More recently, Stewart was Deputy Director, Intelligence Policy in the Office of the Assistant Secretary of Defense from 2001 to 2002; senior intelligence planner, Office of the Under Secretary of Defense for Intelligence from 2002 to 2005; Assistant Chief of Staff, Intelligence at the Marine Corps Forces Command in Norfolk, Virginia, from 2005 to 2006; Assistant Chief of Staff for Intelligence, 2nd Marine Expeditionary Force at Camp Lejeune, North Carolina and in Iraq from 2008-2009; the Marine Corps' Director of Intelligence from 2009-2013, the position that earned him his first star; and Commander of the Marine Corps' Cyber Command until 2015.
Since taking over DIA, Stewart has said he wants to build an information system that will facilitate sharing of data among intelligence services.
Stewart and his wife, Phyllis, have five children.
-Steve Straehley
To Learn More:
Lieutenant General Vincent Stewart: He Did a Lot More Than Show Up (by Pam Benson, Cyber Brief)