Undersecretary for Intelligence and Analysis: Who Is Dave Glawe?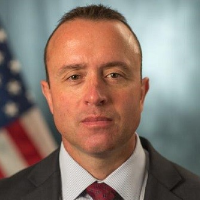 Dave Glawe
David J. Glawe, who has spent his entire career in law enforcement, was nominated March 20, 2017, to be the Department of Homeland Security (DHS) undersecretary for the Office of Intelligence and Analysis (I&A). I&A is responsible for gathering security-related information from the nation's various intelligence agencies, such as the NSA, the CIA and sharing it with state and local law enforcement, as well as with private sector partners.
Born in 1970, Glawe grew up in Davenport, Iowa, the son of James and Nancy Glawe. He graduated in 1992 from the University of Northern Iowa with a B.A. in criminology.
Glawe started as a police officer in Houston, Texas. He went on to become an agent with the U.S. Postal Inspection Service and then moved over to the Federal Bureau of Investigation (FBI). He started there as a special agent and was a member of an FBI Special Weapons and Tactics (SWAT) team. In 2007 he moved up to become a supervisory special agent in the counterterrorism division and served in Iraq and Africa in that capacity.
After his deployment, Glawe worked on the White House's National Counterterrorism Strategy on Africa in the office of the Director of National Intelligence National Counterterrorism Center. In 2012, was named deputy national intelligence manager for Threat Finance and Transnational Organized Crime. Glawe then moved over to Customs and Border Protection as assistant commissioner in the Office of Intelligence.
Glawe took over as acting undersecretary in DHS in January. Almost immediately, he found himself forced to defend President Donald Trump's proposed travel ban on Muslims from seven nations, which Glawe characterized as "a temporary pause." Then came the leak of a report, created under his direction, from the Office of Intelligence and Analysis that disagreed with the premise of Trump's travel ban that citizens of the seven countries posed a special threat. Trump administration officials emphasized that the report was a draft and not final.
In 2014, Glawe married Perry Goerish, an FBI agent.
-Steve Straehley, David Wallechinsky
To Learn More:
White House Effort to Justify Travel Ban Causes Growing Concern for Some Intelligence Officials (by Jake Tapper and Pamela Brown, CNN)