Marijuana Legalization Advocates Encouraged by State Wins but Trump Factor Gives Pause
Thursday, November 10, 2016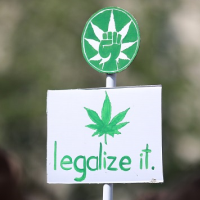 (photo: Kenzo Tribouillard, AFP/Getty Images)
By Paul Elias, Associated Press
LOS ANGELES (AP) — The number of Americans living in states with recreational marijuana more than tripled after at least three states voted to fully legalize the drug. But the election of Republican Donald Trump and GOP majorities in the Senate and House tempered advocates' excitement about an easing of federal restrictions.
"There is a massive sense of momentum, and this will put a lot of pressure on the federal government," said Ethan Nadelmann, founder of the nonprofit Drug Policy Alliance, a pro-legalization group. What gives him "real concern" is Trump.
Nadelmann and other advocates say the president-elect is "unpredictable," and they are unsure where he stands on marijuana issues, though Trump has said in the past that he supports state laws legalizing medical marijuana.
Still, analysts and advocates alike say, the industry may be too big and valuable for a Trump administration to stop, especially after California voters legalized the recreational use of marijuana.
Seven states have now legalized recreational pot, and a recent Gallup poll showed close to 60 percent of Americans support the idea.
Colorado, where stores began legally selling recreational pot in 2014, reported almost $1 billion in legal pot sales last year. Arcview Market Research, which tracks the marijuana industry, estimates that legal annual California pot revenues could exceed $7 billion by 2020.
"The black market will not disappear overnight," said California Lt. Gov. Gavin Newsom, who helped craft the state's ballot measure. But he said the illegal market will shrink significantly if California can establish its marijuana regulations without federal interference.
"This is the beginning of the end of the war on marijuana in the United States," said Newsom, who is running for governor.
Todd Mitchem, a Denver-based marijuana industry consultant and lobbyist, said the pot business should expect an infusion of new interest from investors and would-be marijuana growers and retailers.
"It's going to be huge," said Mitchem, who pointed out that Colorado's pot industry is worth $1 billion a year but the state has only about a tenth of California's population. "Economically, you're going to see a lot more people enter the space and a lot more money enter the space."
Other states, too, will also look with envy at the taxes generated by California and other states where marijuana is legal, analyst predicted.
"The states that voted yesterday have a lot of work ahead of them to set up a legalization and tax structure, but I expect many more states will follow their lead," said Joseph Henchman of the Washington, D.C., think tank Tax Foundation.
Even the financial industry's reluctance to do business with marijuana businesses may soon disappear. Most banks refuse marijuana-related customers because of the federal ban.
"It is one thing to ignore the millions generated in Colorado. It is entirely a different thing to ignore the tens of billions that the California cannabis industry will generate," said Michael Weiner, a Denver lawyer who represents pot-related companies. "The big national banks will want to deposit those funds and put those funds to work by making loans."
Northern California farmers said they hoped Trump would recognize the business benefits of legalized pot and leave alone the states where it is allowed.
Recreational marijuana is "going to attract a lot of business," said Nikki Lastreto, a Northern California pot grower. "If the Trump thing wasn't hanging over our head, we'd be in heaven."
Associated Press Writer Kristen Wyatt in Denver contributed to this story.
To Learn More:
Americans Backing Marijuana Legalization Hits 60% Record High (by David Crary, Associated Press)
Only Conservative Republicans Still Oppose Legalizing Marijuana (by David Wallechinsky and Noel Brinkerhoff, AllGov)
Half of Americans Support Legal Marijuana for First Time (by Noel Brinkerhoff and David Wallechinsky, AllGov)
Obama Escalates Attack on Legal Marijuana (by Noel Brinkerhoff and David Wallechinsky, AllGov)
CBS Bans Marijuana Legalization Ad in Times Square (by Noel Brinkerhoff, AllGov)