Becoming World's Biggest Tobacco Company is Goal of British Firm's $47-Billion Plan to Enter U.S. E-Cigarette Market
Saturday, October 22, 2016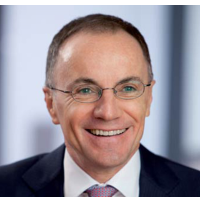 Nicandro Durante, CEO of British American Tobacco (photo: BAT)
By Danica Kirka, Associated Press
British American Tobacco has offered to buy out Reynolds American Inc. for $47 billion in an attempt to gain a strong presence in the U.S., a lucrative market where sales of electronic cigarettes are booming as traditional smoking fades.
The takeover would create the world's largest publicly traded tobacco company and combine BAT's presence in developing countries, where anti-smoking campaigns are not as strong as in the U.S. and Europe, with Reynolds' almost exclusive focus on the U.S.
BAT already owns 42 percent of Reynolds and sells Dunhill, Rothmans and Lucky Strike cigarettes. Reynolds controls about a third of the U.S. market with brands like Newport, Camel and Pall Mall.
Though smoking in the U.S. is declining, it remains "the largest global profit pool" outside of China, BAT said in a statement Friday. The U.S. is one of the biggest markets for e-cigarettes.
"BAT and Reynolds American have a strong existing relationship, and while cost savings will be relatively modest, the full access this acquisition would give BAT to the U.S. — a lucrative, consolidated market with high barriers to entry — means it makes eminent sense," Shane MacGuill, head of tobacco at Euromonitor International, said by e-mail.
The British company offered Friday to buy the Reynolds shares it doesn't already own for the equivalent of $56.50 each, 20 percent more than Thursday's closing price. Investors would receive $24.13 in cash and 0.5502 of a BAT share for each Reynolds share they own. That values Reynolds, based in Winston Salem, North Carolina, at $93 billion.
Reynolds shares jumped 13.5 percent to $53.50 in in New York, while BAT edged down 0.3 percent to 47.88 pounds in London.
The deal is the latest attempted merger in the industry as tobacco companies face weakening demand in developed markets. Only last year, Reynolds American acquired Lorillard, the maker of Newport, the U.S.'s best-selling menthol cigarette brand.
Reynolds traces its roots to 1875, when Richard Joshua Reynolds started a chewing tobacco company in what was then Winston, North Carolina. The company's links with British American Tobacco date to 2004, when R.J. Reynolds Tobacco Co. merged with BAT's Brown & Williamson unit, creating Reynolds American. BAT was left with a 42 percent stake in the new company.
The two companies already have a technology-sharing agreement in the development of electronic cigarettes.
The merger "is the logical progression in our relationship and offers all shareholders a stake in a stronger, truly global tobacco and next generation products company," Chief Executive Nicandro Durante said in a statement.
Reynolds said in a statement that it will evaluate the offer.
Tobacco companies are particularly keen to expand in developing countries to make up for weaker sales in Europe and the U.S. The industry has been grappling with widespread anti-smoking campaigns that have forced companies like BAT and Reynolds to diversify into nicotine replacements and e-cigarettes to meet consumer health concerns.
It also comes only months after Britain instituted plain packaging rules for cigarettes. The idea is to ruin the allure of cigarettes created by advertising and prevent a new generation from taking up the habit.
Reynolds warned in a 2016 filing that if its companies "are not able to develop, produce or market new alternative products profitably, the results of operations, cash flows and financial positions ... could be adversely affected."
"The markets in which these firms are the dominant players are declining, and they face ever increasing competition from Asia in seeking to develop new markets," said Nigel Driffield, professor of international business at Warwick Business School in England.
Asian tobacco companies face less public pressure over increasing sales in developing markets, where public health regulation may not be as strict, he said.
But the U.S. remains an important market. Owen Bennett, an equity analyst at Jefferies International, underscored that the United States currently accounts for 45 percent of global sales of e-cigarettes, also known as vapor cigarettes.
"If vapor accelerates as we expect, then the U.S. is the place to be," he said. "The deal would also give BAT the best exposure to global e-vapor development."
BAT employs more than 50,000 people globally while Reynolds employs 5,700, mostly in the U.S.
The planned merger would create a company likely to overtake Philip Morris International Inc. as the world's biggest publicly traded tobacco company. But China's National Tobacco Corp. is bigger than BAT and Reynolds both combined, Euromonitor International data showed.
BAT, founded in 1902, sold 663 billion cigarettes in more than 200 countries last year and generated revenue of 13.1 billion pounds ($16 billion). Reynolds shipped 76 billion cigarettes last year and reported sales of $10.7 billion.
To Learn More:
E-Cigarette Smoking Among U.S. Teens Triples While Tobacco Use Plunges (by Noel Brinkerhoff, AllGov)
Obama Administration Accused of Bowing to Tobacco Industry in Secret Trade Talks (by Matt Bewig, AllGov)