E-Cigarette Smoking Among U.S. Teens Triples While Tobacco Use Plunges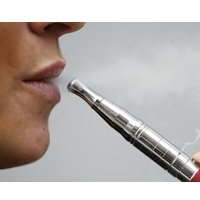 (photo: Kenzo Tribouillard, AFP/Getty Images)
Smoking is still popular among teenagers, but now more of it's being done electronically.
A new study from the Centers for Disease Control and Prevention (CDC) shows that use of e-cigarettes among middle school and high school students tripled from 2013 to 2014. An even larger jump could be seen between the year 2011 and 2014, when e-cigarette use skyrocketed from 1.5% to 13.4%. Thirteen percent of U.S. high school students use the nicotine-delivery devices.
"This is a really bad thing," CDC Director Dr. Thomas R. Frieden, told The New York Times, noting that research had found that nicotine harms the developing brain. "This is another generation being hooked by the tobacco industry. It makes me angry."
The CDC report did show that cigarette smoking declined markedly during the study years, from 16% to 9%, which could mean some teenagers are using e-cigarettes as a means to quit regular cigarettes.
Unlike traditional cigarettes, e-cigarettes have interchangeable components that allow users to enjoy a variety of flavors. This feature of e-cigarettes has made it possible for manufacturers to add a candy-like quality to smoking, making it more attractive to young people. Sabrina Tavernise of the Times reported that "two favorite flavors of teenagers interviewed were Sweet Tart and Unicorn Puke, which one student described as 'every flavor Skittle compressed into one.'"
The Food and Drug Administration (FDA) took its first step toward regulating e-cigarettes last year. Given how slow the FDA moves when it comes to regulating products, "many experts worry that habits are forming far faster than rules are being written," Tavernise wrote.
-Noel Brinkerhoff
To Learn More:
Use of E-Cigarettes Rises Sharply Among Teenagers, Report Says (by Sabrina Tavernise, New York Times)
E-Cigarettes: Teens Smoking Less but Vaping Skyrockets – CDC Report (by Tom McCarthy, The Guardian)
Use of E-Cigarettes Triples among U.S. Teens (by Rob Stein, National Public Radio)
Tobacco Use Among Middle and High School Students — United States, 2011–2014 (by René A. Arrazola, MPH, Tushar Singh, MD, Catherine G. Corey, MSPH, Corinne G. Husten, MD, Linda J. Neff, PhD, Benjamin J. Apelberg, PhD, Rebecca E. Bunnell, PhD, Conrad J. Choiniere, PhD, Brian A. King, PhD, Shanna Cox, MSPH, Tim McAfee MD, and Ralph S. Caraballo, PhD, Morbidity and Mortality Weekly Report, Centers for Disease Control and Prevention)
California Declares E-Cigarettes a Health Threat (by Ken Broder, AllGov)
Some E-Cigarettes Contain 10 Times the Carcinogens as Regular Cigarettes (by Steve Straehley, AllGov)
E-Cigarette Makers Lure Young People by Using other Names for their Products (by Steve Straehley, AllGov)