Drug Enforcement Administration Misused Money for Informants
Friday, September 30, 2016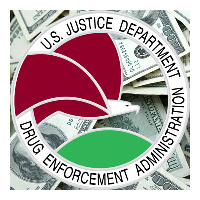 Photo illustration: Steve Straehley/AllGov
Associated Press
WASHINGTON — The Drug Enforcement Administration (DEA) does a poor job overseeing the millions of dollars in payments it distributes to confidential sources, relies on tipsters who operate with minimal oversight or direction and has paid informants who are no longer meant to be used, according to a government watchdog report issued Thursday.
The Justice Department inspector general found sweeping problems with the agency's confidential source program, which between fiscal years 2011 and 2015 paid out more than $237 million to informants.
"We found that the DEA did not adequately oversee payments to its sources, which exposes the DEA to an unacceptably increased potential for fraud, waste and abuse, particularly given the frequency with which DEA offices utilize and pay confidential sources," the inspector general's office wrote.
The report said the DEA was unable to measure the reliability of its informants, improperly maintained Amtrak and Transportation and Security Administration employees as confidential sources, and had no controls or procedures for when its own sources recruit other individuals to act as "sub-sources."
In addition, the agency paid about $27 million during the inspector general's review period to a subset of informants known as "limited use" sources, tipsters who provide information independently to the DEA but operate without direction or real supervision.
The report estimates that the DEA may have paid about $9.4 million to more than 800 sources who were no longer supposed to be used as informants. One of them was a confidential source who had provided false testimony in trials and statements, and yet was reactivated as a source, used by 13 field offices and paid more than $469,000.
In a written response to the report, the DEA said it had issued a new policy in July that it said addressed most of the inspector general's concerns. The DEA also pointed to formal training that's given on the appropriate handling of documentation, tracking and information received from confidential sources.
To Learn More:
Federal Judge Orders DEA to Release Information about Illegal Mass Surveillance (by Noel Brinkerhoff, AllGov)
Law Enforcement Officers and DEA Agents Jump Ship to Consult Marijuana Industry (by Noel Brinkerhoff, AllGov)
After 7 Years and $86 Million, DEA's Spy Plane for Afghanistan Never Used on Afghan Missions (by Tim Ryan, Courthouse News Service)