Suit Claims Student Was Tasered for Being Late to Class
Thursday, September 29, 2016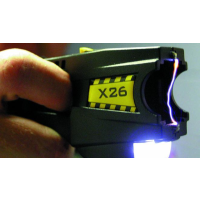 Credit: Wikipedia
By Rebekah Kearn, Courthouse News Service
BAKERSFIELD, Calif. — Police violence against young black men is not confined to the streets, a high school student says in a lawsuit claiming a school police officer Tasered him twice for being late to class after having an anxiety attack.
Tyson Reed and his mother, Linda Reed, sued Kern High School District, KHSD Officer Luis Pena, and teacher Brett Bonetti on Sept. 22 in Kern County Superior Court, alleging disability discrimination and civil rights violations.
"Schools are supposed to be safe places for kids," the Reeds' Los Angeles-based attorney Shawna Parks told Courthouse News. "This case demonstrates how quickly it can go horribly wrong when schools don't follow proper protocol" for students with disabilities.
Parks said Reed was attacked primarily because of his disability, but his race was likely a "determining factor" as well.
"Talk about the quickest way to shut down a kid's interest in learning," she said. "It's not the kind of atmosphere you want in a school."
Kern High School District spokeswoman Lisa Krch said in an email that the school disputes Reed's version of events.
"The district will steadfastly defend itself in this litigation and awaits the opportunity to provide accurate information and factual context to this incident and about the conduct of the parties involved," Krch wrote.
Reed, now 18, played varsity football at Bakersfield High School, from which he graduated in June. He was diagnosed with an anxiety disorder during his junior year.
Bakersfield High School, founded in 1893, was the city's first and only high school until 1937. Its mascot, the Driller, emphasizes how crucial the oil industry is to the city's economy. Kern County, of which Bakersfield is the seat, is the top oil-producing county in the state and among the top five oil-producing counties in the nation. Bakersfield and the surrounding area are home to several major oilfields, and functional oil pumps dot the cityscape.
Bakersfield's other major industry is agriculture. The city sits at the southern end of the Central Valley in California's bread basket, halfway between Los Angeles and Fresno. The city's population of roughly 374,000 is almost evenly split between whites and Hispanics.
Though famous for the distinctive Bakersfield sound in country music, featuring Merle Haggard and Buck Owens as its principal stars, the city also boasts several dubious national distinctions, such as having the deadliest police force, the second most-polluted air, and the least-educated population, ranking 100 among the top 100 metropolitan areas.
Despite the shaky reputation of their hometown, the Reeds say they did not want to let Tyson's anxiety disorder get in the way of his education. His mother says she personally contacted several of her son's teachers, including Bonetti, to explain that he would occasionally be late to class if he felt an anxiety attack coming on and needed to compose himself. But she said the school and its employees ignored her requests for accommodation.
Things came to a head in early March 2015, when Reed was called to the dean's office about an incident in an earlier class. The dean soon realized Reed was not involved and gave him a pass to his seventh period class, which already had started.
Reed says the conversation left him anxious, so he drank some water, walked to the bleachers and listened to music to calm down. After his anxiety subsided he went to class, handed Bonetti the pass from the dean, and sat down at his desk.
Despite knowing of Reed's disability, Bonetti ordered him to collect his things and go to the front office for being tardy. Reed "calmly" asked Bonetti to mark him present, which Bonetti refused to do, according to the complaint.
Instead, Bonetti called campus security. Reed says he was still sitting at his desk after the bell rang to end class, explaining the situation to the security guard, when defendant Pena arrived.
"When Officer Pena arrived, he walked in, pushed Tyson's desk away and yelled at Tyson. He then grabbed Tyson by the arm and Tased him. At some point, the security guard grabbed Tyson's other arm. Tyson fell and/or was thrown to the ground, cutting his lip on his braces. Officer Pena then began to handcuff Tyson. However, he Tased Tyson again after putting handcuffs on him while Tyson was down on the ground. During this time Tyson was screaming in pain, yelling 'I don't deserve this!' or words to that effect," the complaint states.
Pena then "marched" Reed through the hallways in front of other students to his patrol car. After taking Reed to the hospital, Pena booked him into juvenile hall, where he was later released to his mom, according to the complaint.
The school suspended Reed, but ultimately rescinded the suspension and wiped it from his record. It held a meeting to discuss accommodations for Reed the Monday after the incident, which was too little, too late, the Reeds say.
Pena made matters worse by filing false delinquency reports against Reed, who spent 10 months in court before the delinquency judge dismissed the allegations against him, according to the complaint.
Though he was ultimately vindicated, Reed says, the events left him and his mother "irrevocably scarred." He felt so humiliated that he went on independent study for the last semester of his senior year because seeing the people who were involved and the students who witnessed his arrest was too much for him to handle.
The Reeds seek an order finding that the defendants broke the law, and punitive damages against Bonetti and Pena.
To Learn More:
Kern County Leads U.S. in Per Capita Killings by Police (by Steve Straehley, AllGov California)
Tasers Became Weapon for Use of Excessive Force by Border Patrol (by Noel Brinkerhoff and Steve Straehley, AllGov)
Oklahoma Police Taser Bedridden 86-Year-Old Woman (by David Wallechinsky and Noel Brinkerhoff, AllGov)