Tasers Became Weapon for Use of Excessive Force by Border Patrol
Wednesday, November 04, 2015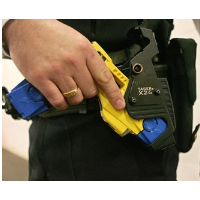 (photo: Getty Images)
The U.S. Border Patrol in 2008 handed out Tasers to its agents to provide an alternative to the use of firearms and lethal force, but those weapons have also proven to be misused and, in some cases, lethal.
The Los Angeles Times looked at 450 documented uses of Tasers from 2010 to 2013 and found 70 instances of agents firing the devices at people "who were running away, even though there was no struggle or clear indication that agents were in danger."
Agents used the weapons six times against people who were trying to climb over the border fence to go back into Mexico.
"When you put that weapon out there and they have access to it, they're going to use it," Ralph Basham, the former Customs and Border Protection commissioner who authorized the use of Tasers seven years ago, told the Times. "Having spent my life in law enforcement, I know you hate to see someone getting away."
Basham said he was unaware that agents were shooting suspects in the back with the Tasers. "I'm not condoning shooting anyone in the back with a Taser," he said. "If you're in a highly tense situation, it's always better than pulling a [gun,] but it's no excuse."
The agency advised not Tasing anyone more than three times, or cycles, but in at least two cases, individuals received five jolts from the weapon. Two people were shocked while they were handcuffed, and three others died after being hit by Tasers.
"In one episode, 24-year-old Alex Martin, who had led agents on a car chase, burned to death after a border agent smashed his car window and fired a Taser inside. The device ignited an explosion and fireball," the Times reported.
-Noel Brinkerhoff, Steve Straehley
To Learn More:
How Tasers became Instruments of Excessive Force for the Border Patrol (by Joseph Tanfani, Brian Bennett and Matt Hansen, Los Angeles Times)
A Window into Taser Use at the Border (by Brian Bennett, Joseph Tanfani and Ben Welsh, Los Angeles Times)
Government Report Critical of Border Patrol Finally Released after 15 Months (by Noel Brinkerhoff, AllGov)
90% of Taser Death Victims are Unarmed (by Matt Bewig, AllGov)