U.S. Wildlife Officials Burn $1 Million Worth of Rhino Horns in Symbolic Ceremony against Poaching
Friday, September 09, 2016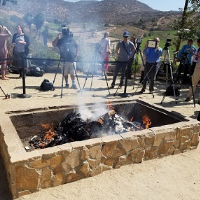 (photo: CNS/YouTube)
By Sean Duffy, Courthouse News Service
SAN DIEGO (CN) — Federal wildlife officials burned more than $1 million worth of rhino horn items in a ceremony Thursday, as they and onlookers raged over continued poaching and trafficking of the endangered animals.
The items included whole horns, ornate objects and items falsely marketed as medicine, which were confiscated by U.S. officials before being used in the symbolic event — the first of its kind in the nation.
"Wildlife trafficking through the United States, or into the United States, will not be tolerated," U.S. Fish and Wildlife Service program officer Michelle Gadd said in an interview. "If you bring protected animals here, whether you bring them whole or in parts, they will be seized and they will be destroyed."
There are only about 20,000 white rhinos and 5,000 black rhinos left in the world, figures that will continue to shrink as a rhino is poached every eight hours in Africa. There were 1,335 rhinos poached in 2015 alone.
"It's increasing to a level where more rhinos die each year than are born each year. That's the tipping point where a species fails," Steve Metzler, animal care manager for the mammal department at the San Diego Zoo Safari Park where the ceremony was held, said. "We're right at that tipping point now."
Efforts to halt rhino horn trafficking have been thwarted by demand, primarily from Asian nations where people view the items as medicinal resources, good luck charms and signs of wealth.
"The primary regions are Vietnam and China," Metzler said. "There's a belief that it can cure a multitude of illnesses and things. Again, it's all not true. Just possessing rhino horn is a status symbol."
Gadd said that while rhino horn trafficking declined in the 1990s following legal protections enacted in 1979 and again in 1987, the demand has led to a resurgence in poaching starting in 2008.
"We realized there's a more bloodthirsty demand than before. Poachers are penetrating some of our safest protected areas just to get the horn out of Africa and into the black market," she said.
An international coalition to stop the rise in rhino horn trafficking has produced 41 arrests and 30 convictions, and the confiscation of items like the ones burned Thursday.
In Kenya — the first nation to destroy rhino horn contraband beginning in the 1980s — about 120 tons of elephant ivory and 1.3 tons of rhino horn were destroyed in April. Other nations have since followed suit.
If the current rate of rhino deaths continues, the species will be extinct in 20 years.
"There's a mistaken belief that rhinos are OK. Many people thought the rhino crisis was over. But unfortunately we've found ourselves in the midst of a huge rhino crisis at the moment," Gadd said. "Rhino horn is valuable on live rhinos in Africa."
View video of the ceremonial bonfire here.
To Learn More:
U.S. Hasn't Been Able to Stop Animal Smuggling Trade (by Elizabeth Warmerdam, Courthouse News Service)
U.S. Prepares to Destroy 6 Tons of Illegal Ivory (by Noel Brinkerhoff, AllGov)
Organized Crime Muscles into New Field: Endangered Species (by Noel Brinkerhoff, AllGov)
Hunting Club Auctions First Foreign Permit to Kill Endangered Black Rhino (by Noel Brinkerhoff, AllGov)