U.S. Hasn't Been Able to Stop Animal Smuggling Trade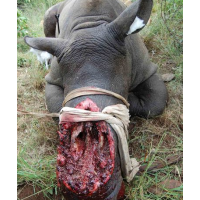 Credit: stoprhinopoaching.com
By Elizabeth Warmerdam, Courthouse News Service
U.S. efforts to stop the illegal slaughter of elephants, rhinos and other wildlife brought has slowed but not stopped the worldwide smuggling trade that threatens the survival of species, according to a federal progress report (pdf) released Thursday.
Twenty percent of African elephants have died in the past decade and one of every 20 wild rhinos was killed by a poacher in the last year alone, according to the report: "U.S. National Strategy for Combating Wildlife Trafficking, 2015 Annual Progress Assessment."
The U.S. Fish and Wildlife Service has estimated that illegal smuggling of wildlife is the third-largest smuggling business in the world, after drugs and technological equipment.
"Each illegally traded horn or tusk represents not simply an object, but a dead animal. We must take the profit out of wildlife trafficking to stop the criminals who are robbing from our children and grandchildren the great diversity of life on our planet," Assistant Attorney General John C. Cruden of the Department of Justice's Environment and Natural Resources Division said in a statement.
"Well-armed traffickers exploit porous borders and weak institutions, eroding governance and undermining livelihoods," according to the report.
Operation Crush, a rhino horn and ivory smuggling investigation led by the U.S. Fish and Wildlife Service, brought charges against more than 30 people and businesses in U.S. courts, with more than 20 convictions, prison terms as long as 70 months, and millions of dollars in forfeitures and restitutions, according to the report.
Also Thursday, the Convention on International Trade in Endangered Species (CITES) released figures showing that a steady increase in illegal elephant killing peaked in 2011 and has since stabilized. But the number of killings is still "at levels that remain unacceptably high overall," CITES said, and poaching rates are still higher than the normal growth rate of elephant populations.
"African elephant populations continue to face an immediate threat to their survival from unacceptably high levels of poaching for their ivory, especially in Central and West African where high levels of poaching are still evident," CITES Secretary General John Scanlon said.
"There are some encouraging signs, including in certain parts of Eastern Africa, such as Tsavo in Kenya, where the overall poaching trends have declined, showing us all what is possible through sustained and collective effort with strong political support," Scanlon said.
The U.S. report was issued by the Presidential Task Force on Wildlife Trafficking, which President Obama created to bring together 17 federal departments and agencies to plan and implement a national strategy.
The report calls 2015 a "turning point in the fight against wildlife trafficking," citing Obama's and Chinese President Xi Jinping's agreement to enact nearly complete bans on imports and exports of ivory.
The U.S. Fish and Wildlife Service crushed one ton of ivory in New York City to reinforce "the message that elephant tusks have no place in commerce," the report says.
In China, public service announcements aimed at reducing demand for illegal wildlife reached 23 million people daily.
The Department of Justice said that these and other demand-reduction efforts appear to be working, as studies show that the price of ivory has fallen by almost half in the past two years and elephant poaching is decreasing in some key habitats.
The report was released on March 3 to coincide with World Wildlife Day.
To Learn More:
U.S. Prepares to Destroy 6 Tons of Illegal Ivory (by Noel Brinkerhoff, AllGov)
Organized Crime Muscles into New Field: Endangered Species (by Noel Brinkerhoff, AllGov)
Who is Murdering Walruses in Alaska? (by Noel Brinkerhoff, AllGov)
NRA and Musicians Share Concern over Ban on Sales of Ivory (by Noel Brinkerhoff, AllGov)