Hunting Club Auctions First Foreign Permit to Kill Endangered Black Rhino
Saturday, January 11, 2014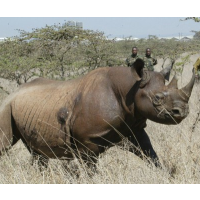 (AP Photo)
A Dallas hunting club is auctioning a permit this weekend to kill an endangered Black Rhino in Namibia to raise money that it says will help save other members of the species. The controversial plan enjoys the support of some environmental groups, but has sparked criticism from hundreds of people.
The auction will take place this weekend, during the Dallas Safari Club's annual meeting, which it calls "the greatest hunters' convention on the planet."
The highest bid—likely to be six figures—will get the permit issued by the Namibian government to hunt and shoot a Black Rhinoceros. The money will go to support conservation efforts in the southern African country to protect the endangered species, now numbering about 5,000.
Safari club leaders say the rhino, selected by the Namibians, will be an older male no longer able to breed.
The auction has received the support of groups like the World Wildlife Fund and the International Union for the Conservation of Nature, as well as the U.S. Fish and Wildlife Service. Supporters say the auction will raise much more money, and more quickly, than charitable donations.
But many individuals object to killing an aging rhino for sport, cloaked in the guise of helping the species, critics say.
"This particular animal is being hunted because he is old and unable to reproduce," Angela Antonisse-Oxley of Dallas, who is recruiting demonstrators for a peaceful protest on Saturday, told the Dallas Morning News. "It is barbaric to hunt and kill an animal merely for this reason."
Club officials have received death threats over the auction, prompting the involvement of the Federal Bureau of Investigation. Security is also being tightened at the Omni Dallas Hotel and the adjoining Hutchison Convention Center, the site of the auction.
Namibian officials say the killing of an aging male incapable of breeding makes room for younger males and helps the population grow. The country has auctioned black-rhino permits to hunters for about 10 years, and during that time, the species' overall numbers have grown from 3,600 to 5,055, supporters point out. However, Namibia is home to only 1,800 of the remaining black rhinos.
This is the first time such an auction has taken place outside Namibia.
-Noel Brinkerhoff
To Learn More:
2 Sides Lock Horns as Dallas Hunt Club Nears Auction of Permit to Kill Black Rhino (by Randy Lee Loftis, Dallas Morning News)
Debate over Dallas Safari Club Auctioning Black Rhino Hunting Permit (by Ed Lavandera, CNN)
FBI Investigates Death Threats in Texas Ahead of Rhino Hunt Auction (by David Warren and Michael Graczyk, Associated Press)