Minnesota Limits Pesticides to Protect Bees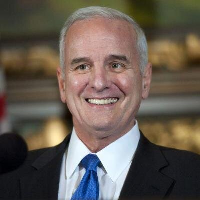 Gov. Mark Dayton (photo: Twitter)
By Steve Karnowski, Associated Press
MINNEAPOLIS (AP) — Gov. Mark Dayton sought Friday to extend a little Minnesota nice to the state's declining honeybee population by issuing an executive order limiting certain pesticides that harm them, a step advocates said positions the state as a leader in protecting pollinating insects critical to the nation's food supply.
In making the announcement at the Minnesota State Fair, the Democratic governor stressed the importance of pollinators to the state's $90 billion agriculture sector.
The class of insecticides known as neonicotinoids, or "neonics," is one of several factors that have been blamed for falling pollinator populations, along with parasites such as mites, diseases and poor nutrition. About one-third of the human diet comes from plants pollinated by insects, and honeybees do about 80 percent of that work.
"We want to work cooperatively with user groups," Dayton said at a news conference. "We're not trying to ban anybody's practices or businesses, but there's a lot more we can do, all of us, more sensibly, with better awareness, to protect the pollinators."
Dayton's order directs the Minnesota Department of Agriculture to require verification that any application of neonicotinoid pesticides is necessary due to imminent threats of significant crop losses. It also creates a task force to study issues impacting pollinators and to recommend long-term solutions. State government will set up an interagency team on pollinator protection.
The governor also ordered state agencies to lead by example on the 8 million acres of land they manage statewide. Those steps will include turning highway rights-of-way into better habitat, with more of the kinds of plants pollinators crave. Neonicotinoid-treated plants and pesticides will be prohibited in the 40-acre State Capitol complex, and pollinator-friendly plants will be included in the Capitol's landscaping plan.
The order incorporates most of the recommendations from a special review that the state agriculture department conducted of neonicotinoids. But some of Dayton's proposals require legislative approval, including giving the state authority to regulate neonicotinoid-treated seeds. Agriculture Commissioner Dave Frederickson said about 80 percent of seeds planted today are treated with the insecticides.
University of Minnesota bee expert Marla Spivak said the governor's order "puts Minnesota miles ahead of all the other states in our nation. ... Some may think that these actions go too far, but I honestly don't know a farmer, a nursery operator, a grower, a pesticide applicator that wants to kill a bee or monarch while they're controlling their crop pests."
The Pesticide Action Network welcomed the moves toward using neonicotinoids as a last resort and the steps toward regulating pesticide-coated seeds. Organizer Lex Horan said in a statement that it ensures "bee-harming pesticides won't be used unnecessarily."
Bayer Crop Science, the top manufacturer of neonicotinoid pesticides, said it supports state efforts to protect pollinator health. Spokesman Jeff Donald pointed to a line in the state's review that said, "When properly applied, the risks associated with neonicotinoid use in general — and seed treatments in particular — can be offset by their benefits."
Kevin Paap, president of the Minnesota Farm Bureau, said every farm can find a place for pollinator-friendly plants such as milkweed and flowers, but farmers still need the flexibility to use modern technology.
Neonicotinoid insecticides are "very important," to agriculture he said. Biotechnology now builds insect resistance into corn and other crops, sharply reducing the need for pesticides, but it doesn't eliminate the need, he said.
"We certainly can have a balance with the pollinators and neonics and make that work," Paap said.
To Learn More:
EPA Finds Pesticide Harm to Honeybees Depends on the Kind of Crop (by Seth Borenstein, Associated Press)
USDA Accused of Suppressing Research Linking Pesticide to Widespread Bee Deaths (by Noel Brinkerhoff and Steve Straehley, AllGov)
Federal Court Revokes EPA's Approval of Insecticide Linked to Collapse of Bee Populations (by Ken Broder and Noel Brinkerhoff, AllGov)
Pesticides Suspected in Deaths of Birds and Bees (by Noel Brinkerhoff and Steve Straehley, AllGov)