Federal Court Revokes EPA's Approval of Insecticide Linked to Collapse of Bee Populations
Tuesday, September 15, 2015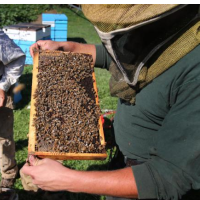 (photo: Brian Davies, Register-Guard via AP)
The U.S. Environmental Protection Agency (EPA) was wrong to approve the pesticide sulfoxaflor two years ago, a federal appeals court has ruled, forcing the chemical off the market.
A three-judge panel of the Ninth Circuit Court of Appeals in San Francisco ruled (pdf) last week in favor of a lawsuit brought by Earthjustice and others, saying the EPA erred when it approved the pesticide in 2013.
"Because the EPA's decision to unconditionally register sulfoxaflor was based on flawed and limited data, we conclude that the unconditional approval was not supported by substantial evidence," Judge Mary M. Schroeder wrote for the court.
Sulfoxaflor, marketed as Closer and Transform, is in the family of pesticides called neonicotinoids that affect the central nervous system of insects, resulting in paralysis and death. Honeybees have been dying out in unprecedented numbers since 2006. Land use and other factors are no doubt part of the problem, but pesticides have been one of the suspects from the beginning.
The EPA admitted that it was aware that sulfoxaflor was "very highly toxic" to bees, but reasoned that rules for its application could be devised that would mitigate any harm. The court said the EPA had no basis for saying that.
Dow Agrosciences, maker of the insecticide, and the EPA argued to the court that although there were studies linking the product to bee deaths, they were not conclusive. That line of reasoning did not impress Schroeder, who wrote: "Neither logic nor precedent can sustain this position. We have previously held that an agency cannot rely on ambiguous studies as evidence of a conclusion that the studies do not support."
The ruling supported the view of many environmentalists who believe the long-term effect of insecticides on entire bee colonies should be taken into account, not merely a dose of chemical on an individual bee.
"This is a huge opinion," Peter Jenkins, an attorney for the Center for Food Safety, which has also sued the EPA over its regulation of neonicotinoids, told the Star-Tribune in Minneapolis. "There was not enough data that the EPA could point to support its conclusions."
-Ken Broder, Noel Brinkerhoff
To Learn More:
Court Revokes Approval of Insecticide, Citing 'Alarming' Decline in Bees (by Maura Dolan and Geoffrey Mohan, Los Angeles Times)
Court Revokes EPA Approval of Insecticide Harmful To Bees (by Josephine Marcotty, Star Tribune)
Citing Bee Decline, Court Tosses Pesticide Approval (by Nick McCann, Courthouse News Service)
Pollinator Stewardship Council v. EPA (Ninth Circuit Court of Appeals) (pdf)
U.S. Ninth Circuit Reverses EPA's OK of Pesticide that Is Destroying Honeybees (by Ken Broder, AllGov California)
Lawsuit Blames State Pesticide Agency Stalling in Honeybee Disaster (by Ken Broder, AllGov California)