Pesticides Suspected in Deaths of Birds and Bees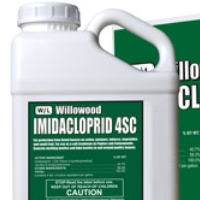 Both birds and bees are falling victim to a type of pesticide that was originally introduced because it was thought to cause less harm to the environment.
Researchers in the Netherlands say Imidacloprid, a neonicotinoid chemical that uses a nicotine-like substance to kill agricultural pests, is responsible for the decline in bird populations in Europe.
The Dutch study looked at the population of 15 types of birds and found a consistent decline in the population where Imidacloprid was present in surface water. "I think that the information we have been able to provide is exactly the information that was missing in most studies," Dr. Hans de Kroon, one of the study's authors, told the BBC. "In that sense, this could be the definite 'smoking gun.' You now see the evidence getting more complete, around the effects of Imidacloprid on the environment."
Researchers believe the chemical kills off the insects that the birds eat, but they're still unsure of the reason for the population decline.
Other research has fingered neonicotinoids for the recent die-off of honeybees. In 2013, the European Union declared a two-year moratorium on the use of the neonicotinoid chemicals on flowering crops. And last month, the Obama administration ordered the Environmental Protection Agency to review the effect of neonicotinoids on bees.
The chemical was introduced on farms in the 1990s, billed as doing less harm to mammals and better for the environment. Its use has grown in popularity, and now makes up 40% of the worldwide pesticide market. However, it has been shown to persist in soil around crops for years.
Just weeks ago, an international group of 29 scientists concluded that neonicotinoids were causing harm to birds, butterflies, worms and fish.
-Noel Brinkerhoff, Steve Straehley
To Learn More:
Bird Decline 'Smoking Gun' for Pesticide's Effects (by Matt McGrath, BBC News)
Bee-Harming 'Neonicotinoid' Pesticides Also Hurt Bird Populations: Study (Agence France-Presse)
Focus is on Pesticides as 80,000 Bee Colonies Damaged or Destroyed (by Ken Broder, AllGov California)
Beekeepers Sue EPA over Failure to Protect Bees from Pesticides (by Noel Brinkerhoff, AllGov)