People's Identities Collected and Traded like Baseball Cards in Controversial Twitter App Game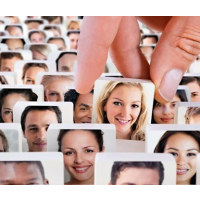 (graphic: Getty Images)
By Nicholas Iovino, Courthouse News Service
SAN FRANCISCO (CN) — A federal class action accuses Twitter of colluding with an app-maker to misappropriate people's identities so game-players could collect and trade profiles "of real-life people as if they were baseball cards."
Lead plaintiff Jason Parker on Wednesday sued Twitter and Hey Inc., maker of the app "Famous: The Celebrity Twitter," claiming both companies violate Alabama's Right of Publicity Act.
He sued in San Francisco for a class of Alabama residents because both tech companies are based in California. He seeks statutory damages of $5,000 for each misappropriation of identity, destruction of the names, photos and profiles, disgorgement of unjust profits, and punitive damages.
Twitter agreed in June 2015 to give Hey unfettered access to import its users' profile data into its gaming app, including names and photos. Originally called "Stolen," the game "encouraged players to 'buy,' 'own' and even steal' real-life people by using virtual currency. But this version of the app received intense public scrutiny," Parker says in the complaint.
The app disappeared in January this year after Massachusetts Congresswoman Katherine Clark sent a letter to Twitter's CEO urging him to suspend Hey's access until nonconsenting profiles were removed and safeguards were put in place.
Less than a month later, the app re-emerged as "Famous." Rather than urging players to buy and sell profiles, "Famous" had users "invest in" people's profiles with "hearts," instead of virtual currency.
"Aside from giving it a new name, the nature of the app and core functionality remain exactly the same as before: the app still displays real life Twitter users, including their full names and photographs, without their consent, and players still collect these real life people from the app's marketplace using virtual currency," Parker says in the complaint.
The game gives each player a limited number of virtual credits for free, allowing them to buy additional currency, or hearts, with real money.
Parker says the app has imported profiles of tens of thousands of people without their consent and exploits their identities for profit.
The mobile game's developer, Siqi Chen, created another game in 2007 called "Friends for Sale," which allowed Facebook users to buy and sell their friends' Facebook profiles.
"The pernicious nature of ownership was a reflection of Chen's vision for the game," Parker says in the 17-page lawsuit.
In 2009, Chen sold "Friends for Sale" to the gaming company Zynga for an undisclosed sum before launching his new Twitter-based profile-collecting game in 2015.
Parker cites a January 2016 review of the app from the technology news website, The Next Web, or TNW, written by Lauren Hockenson. The article reports that the game "commoditizes users without their knowledge" and "crafts a potential opening for harassment" because people who "own" others' profiles can rename them.
Parker cites an interview with the app's founder, Chen, in which he "admits the game wouldn't work if he had to obtain consent from each user."
When asked if it would make more sense to feature people in the game only with their permission, Chen allegedly said: "It doesn't really work if we can't show you the people that you actually follow and care about on Twitter."
Parker says he joined Twitter in May 2008 and discovered in July this year that his profile, name and photo were uploaded to the app and displayed for players to collect with virtual currency.
He seeks class certification for all Alabama residents whose profiles have appeared in the app without their consent, an injunction, and damages as noted above. He also wants Twitter ordered to revoke Hey's access to its application programming interface.
He is represented by Stewart Pollack with Edelson PC in San Francisco.
Twitter did not respond Thursday to an email request for comment.
Hey founder and CEO Chen did not return a phone call seeking comment.
To Learn More:
Court Approves Class Action Suit against Apple for Theft of Private Consumer Data (by Nicholas Iovino, Courthouse News Service)
Privacy of No Concern for Ted Cruz Mobile App in Campaign's Massive Data Mining Operation (by Michael Biesecker and Julie Bykowicz, Associated Press)
Smartphone Users Tracked by Apps an Average of every Three Minutes (by Noel Brinkerhoff and Danny Biederman, AllGov)
Want Your Address Book Secretly Uploaded? Lawsuit Claims There's an App for That (by Ken Broder, AllGov California)