Court Approves Class Action Suit against Apple for Theft of Private Consumer Data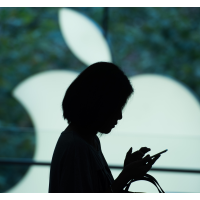 (photo: Johannes Eisele, Getty Images)
By Nicholas Iovino, Courthouse News Service
SAN FRANCISCO (CN) — A nationwide class of Apple device users can seek damages over claims that Apple let a social networking app download users' personal data without consent, a federal judge ruled (pdf) Friday.
The decision comes four years after lead plaintiff Mark Opperman sued Apple and the social networking app Path Inc. in one of four consolidated class actions filed in California and Texas.
Opperman claims Apple distributed "invasive versions" of the Path app, which downloaded details from each user's contact list without their knowledge or consent. Path stored the data, which included email addresses and birthdays, and mined it to create social graphing maps, the plaintiffs claim.
The class lobbed similar claims at other app developers — including Yelp, Twitter, Instagram and "Angry Birds" maker Rovio — but the ruling issued on July 15 only applies to claims against Apple and Path.
In that ruling, U.S. District Judge Jon Tigar certified a class of 480,000 Apple device users whose contact data was downloaded by Path between Nov. 9, 2011, and Feb. 7, 2012.
Tigar refused to certify a larger class of users who downloaded the app, finding only members of the "intrusion upload subclass" who actually logged into the app and had their data accessed were injured.
The judge also rejected the defendants' claims that choice-of-law questions made class certification impractical. He found Apple and Path failed to show that applying California law would hinder the interests of other states where plaintiffs reside.
However, the judge did side with Apple and Path in finding that the plaintiffs failed to offer a viable method for calculating the inherent value of privacy on a classwide basis.
The plaintiffs' economics expert, Dr. Hank Fishkind, proposed creating a survey that would ask respondents to choose between getting a free app that would access their data without consent or paying a certain fee for an app that would not download their contacts without permission.
"It may be that the average damages that Dr. Fishkind's model would predict will be very close to the damages actually suffered by every class member, but there is no way of knowing this," Tigar wrote. "It is equally or more likely that his model would overcompensate some class members while undercompensating others."
Tigar found the class could not pursue monetary damages for invasion of privacy or unjust enrichment, but that it could seek nominal and punitive damages.
The fact that each class member can recover only a modest amount in damages makes pursuing the litigation as a class, rather than individually, "clearly superior to the alternatives," the judge concluded.
Path's attorney, Jebediah Wakefield of Fenwick & West, declined to comment on the ruling.
lass attorney David Given of Phillips Erlewine Given & Carlin did not return a phone call seeking comment Monday afternoon.
Path was sold to Kakao, a South Korean technology firm, in May 2015, after the social networking app failed to go mainstream in the United States and capped out at 23 million registered users.
The plaintiffs must submit all remaining motions for class certification against the 16 remaining app developer defendants, including LinkedIn and Foursquare Labs, by Aug. 23.
To Learn More:
Marc Opperman, et al. v. Path, Inc, et al. (U.S. District Court, Northern District of California) (pdf)
Privacy of No Concern for Ted Cruz Mobile App in Campaign's Massive Data Mining Operation (by Michael Biesecker and Julie Bykowicz, Associated Press)
Smartphone Users Tracked by Apps an Average of every Three Minutes (by Noel Brinkerhoff and Danny Biederman, AllGov)
Want Your Address Book Secretly Uploaded? Lawsuit Claims There's an App for That (by Ken Broder, AllGov California)