Smartphone Users Tracked by Apps an Average of every Three Minutes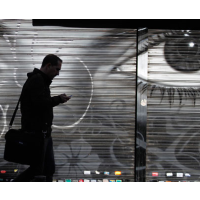 (AP photo)
Using a smartphone can mean revealing your whereabouts nearly all the time, according to new research performed by computer scientists at Carnegie Mellon University.
Working with nearly two dozen smartphone owners using the Android operating system over a two-week period, researchers found some apps collected GPS data from those phones an average of every three minutes.
The average was calculated after the computer scientists found that about a dozen or so Android apps gathered GPS data 6,200 times per study participant during the two weeks.
Some of the apps mentioned in the study include The Weather Channel, which collected GPS data every 10 minutes. Another app, Groupon, requested a smartphone owner's coordinates 1,062 times in two weeks.
"Does Groupon really need to know where you are every 20 minutes?" asked Norman M. Sadeh, a Carnegie Mellon professor who co-authored the study. "The person would have to be accessing Groupon in their sleep."
During one part of the study, the smartphone participants were sent daily messages informing them of the number of times their personal information—such as current location, incoming and outgoing phone calls, and their contacts lists—had been shared with app companies. For instance, one such message read: "Your location has been shared 5,398 times with Facebook, Groupon, GO Launcher EX and seven other apps in the last 14 days."
The study participants were usually taken off guard and not too pleased at the revelations. One person reacted to the findings by saying: "4,182 (times) – are you kidding me? It felt like I'm being followed by my own phone. It was scary. That number is too high."
Outside of the study, smartphone users have no way of knowing that their personal data is constantly being compromised by the apps on their phones. "The vast majority of people have no clue about what's going on," said Sadeh.
Upon learning of the vast privacy breach, most study subjects moved to block the privacy invasion by adjusting their settings through apps privacy management software that the study sponsors made available to them.
-Noel Brinkerhoff, Danny Biederman
To Learn More:
Study Shows People Act To Protect Privacy When Told How Often Phone Apps Share Personal Information (by Byron Spice, Carnegie Mellon University)
Where Were You 3 Minutes Ago? Your Apps Know (by Elizabeth Dwoskin, Wall Street Journal)