Texas Forces Mentally Ill Suspects to Languish in Jail Cells without Treatment, Claims Lawsuit
Thursday, August 04, 2016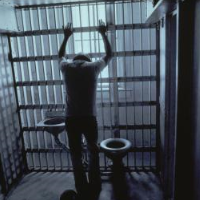 (photo: Josh Mitchell, Photolibrary/Getty Images)
By Ryan Kocian, Courthouse News Service
AUSTIN, Texas (CN) — A class action says that the state of Texas forces mentally ill suspects deemed incompetent for trial to wait in county jails instead of being placed in mental health facilities for proper treatment.
Disability Rights Texas along with three individuals representing a class of approximately 280 incompetent detainees sued Texas Department of State Health Services commissioner Dr. John Hellerstedt in Federal Court on July 29.
The group pursues "legal, administrative, and other appropriate remedies" for Texans with disabilities, including those with mental illness.
According to the complaint, "When an individual charged with a crime is found to be incompetent to stand trial, Texas law requires that the Texas Department of State Health Services provide the incompetent detainee with treatment aimed at restoring the individual to competency."
This specialized competency-restoration treatment can only be provided in a state mental health facility or in a community-based outpatient program, under certain circumstances and with proper supervision.
But the department "routinely fails or refuses to provide competency-restoration treatment within a reasonable period of time from the date of the state criminal-court order requiring such treatment," the group says in its complaint.
This means that criminal defendants found incompetent are put on a waiting list until a bed at a mental health facility becomes available. Such individuals may wait in jail for weeks or even months until the department accepts custody.
"These incompetent detainees — despite being presumed innocent — end up being confined in jail prior to adjudication and pending treatment longer than if they had been found guilty of the alleged crime," the group says in its complaint.
"As a result of the delays caused by the department, individuals with mental illness languish in county jails without appropriate mental health treatment until a bed becomes available at a department mental health facility.
"Defendant has a duty to accept and treat mentally incompetent detainees within a reasonable period of time, which must be measured in days, not weeks or months," the group says.
The complaint describes the experiences of the three named individual plaintiffs who were each found incompetent to stand trial for their criminal cases.
On Feb. 17, Joseph Ward was found incompetent to stand trial in Harris County and ordered to be committed to a mental health facility to attain competency. But the department did not allow the county to transfer Ward to a state mental health facility, so he remained in the county jail. Ward has been waiting to be transferred to a mental health facility for competency treatment for over 22 weeks, the complaint says.
Plaintiffs Isaac Lemelle and Michael Anderson were similarly found incompetent to stand trial for their respective criminal cases in Travis County. The department would not allow the county to transfer either one to a state mental health facility, resulting in their continued confinement in the county jail before they could receive competency treatment. This amounted to a 21-week wait for Lemelle and a 13-week wait for Anderson, according to the complaint.
And county jails are unable to provide competency-restoration services to those found incompetent to stand trial, the class argues.
"Jails are not designed to be therapeutic — they are inherently punitive, and as such are not appropriate settings in which to provide treatment aimed at restoring a person to competency. Correctional facilities, particularly facilities designed for short-term detention, do not have the staffing, funding, or capabilities to provide proper care and treatment for individuals with significant mental health needs," the group says in the complaint.
"Because county jails are often unable to provide even basic mental health treatment, incompetent detainees frequently end up between a rock and a hard place: either they are housed in the general jail population — often with convicted offenders — or they are placed in solitary confinement, which causes their mental health to further deteriorate. This deterioration conflicts with the state's interest in prompt evaluation and treatment so that such persons may be brought to trial.
"In contrast, state mental health facilities are specifically designed to provide inpatient treatment to restore incompetent detainees to competence, thereby enabling them to stand trial," the group says.
They cite a 2014 Joint Report (pdf) by the National Sheriff's Association and the Treatment Advocacy Center which states, "Texas is among the states with the lowest number of public psychiatric beds and among the stingiest states in per capita mental health spending."
In February 2016, incompetent detainees were waiting an average of 41 days in local jails before transfer to a state mental health facility. As of April 1, the longest wait time for a non-maximum security bed was 275 days, the complaint notes.
The class says their due process rights under the 14th Amendment are violated when they are confined in county jails for protracted periods.
"No legitimate state interest justifies the confinement of mentally incompetent criminal defendants in county jails for months on end. The nature and duration of their incarceration bear no reasonable relation to the restorative purpose for which the court has committed those individuals to treatment," the group says in the complaint.
They seek class certification and injunctive relief against the department, which did not reply to an email request for comment.
The class is represented by Beth Mitchell with Disability Rights Texas.
In July, Washington state federal judge Marsha Pechman ruled in favor of mentally ill inmates in their 2014 class action claiming that the state violated their civil rights by delaying their competency evaluations.
"The people of Washington deserve to have their mental health needs and the needs of their spouses, parents, children, and friends attended to with the same urgency and dignity our society expects hospitals to respond with when presented with a broken bone or a cancerous tumor," Pechman said in the contempt order.
To Learn More:
California Mentally Ill Left Untreated in Jail Longer than if They Had Plead Guilty (by Rebekah Kearn, Courthouse News Service)
ACLU Lawsuit Accuses the State of "Warehousing" Mentally Ill in Jails (by Ken Broder, AllGov California)
Are Prisons the New Mental Health Hospitals? (by Steve Straehley, AllGov)
10 Times as Many Americans with Severe Mental Illness are in Prison or Jail than in State Mental Hospitals (by Noel Brinkerhoff and Steve Straehley, AllGov)
2 Million Mentally Ill Americans per Year Are Put in Prisons Rather than Mental Hospitals (by Noel Brinkerhoff and Danny Biederman, AllGov)