2 Million Mentally Ill Americans per Year Are Put in Prisons Rather than Mental Hospitals
Wednesday, September 18, 2013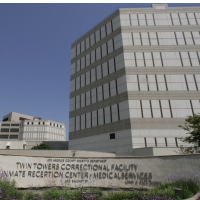 LA. Twin Towers Correctional Facility (photo: Damian Dovarganes, AP)
Many of the local jails in the United States function as de facto mental institutions, due to the sheer number of mentally ill prisoners they house and the lack of psychiatric alternatives available to communities.
More than two million people suffering from mental illness wind up in city and county detention centers every year, according to experts who say that the number goes up when federal and state prisons are factored in.
This situation has existed for decades since the country closed down many large psychiatric hospitals in the 1970s. Community-based care was supposed to take the place of the hospitals, but that didn't develop as planned. The result: thousands of mentally ill wound up on the streets, where they got into trouble and landed in the only place that could take them: jails.
In Los Angeles County, the Twin Towers Correctional Facility houses nearly 4,000 inmates—a majority of whom "are deemed mentally ill," Lieutenant Joseph Badali, a supervisor with the Sheriff's Department, told National Public Radio (NPR).
Nationally, the proportion is even higher. The U.S. Department of Justice says up to 64% of inmates at local jails have mental health problems. The department also reports that "an estimated 3.6 percent of [jail inmates], those identified with serious psychological distress reported inmate-on-inmate sexual victimization, compared to 0.7 percent of inmates with no indication of mental health problems."
"For some people maybe it's better than being than on the street," Los Angeles Times columnist Steve Lopez told NPR's Jacki Lyden. "But that doesn't mean that a jail is a therapeutic environment, and that doesn't mean that this is good public policy, and that doesn't mean that anyone should find this acceptable."
The street is where these mentally ill inmates end up, once they've finished serving their time for the offenses that landed them in jail. And once they're out, there is "no linkage [to any] kind of community-based treatment center," added Lopez. "And this is a population that needs regular management."
At the Twin Towers Correctional Facility in downtown LA, there are only 30 beds available for acute psychiatric cases. That's why county leaders are considering the construction of a new jail just to house the mentally ill.
The cost would be more than $1 billion.
-Noel Brinkerhoff, Danny Biederman
To Learn More:
What Is The Role Of Jails In Treating The Mentally Ill? (All Things Considered, National Public Radio)
Patients as Prisoners, Jails New Mental Health Institutions (by John Miller, CBS News)
Giving Patients Better Mental Health Care Reduces The Prison Population And Saves Us Money (by Sy Mukherjee, ThinkProgress)
Judge Adds Probe of State Mental Health Facilities to Ongoing Scrutiny of Prisons (by Ken Broder, AllGov California)
Rate of Patients in Psychiatric Hospitals has Fallen to Level of 1850 (by Matt Bewig, AllGov)