Big Lobbying and PAC Spending Brought Federal Contractors $1.6 Trillion Last Decade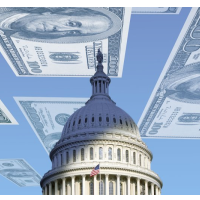 (graphic: Getty)
By Frank Bass, MapLight
Major U.S. government contractors have received $1,171 in taxpayer money for every $1 invested in lobbying and political action committee contributions during the last decade, according to a MapLight analysis.
The 25 largest federal contractors, as ranked by value of contracts received during the 2014 fiscal year, have received almost $1.6 trillion for their work since October 2005. These companies spent about $1.2 billion on lobbying and contributed more than $150 million to PACs during that time, according to MapLight's analysis of federal procurement data and lobbying and PAC contributions from the Center for Responsive Politics.
A relatively small amount of the $1.6 trillion can be described as profit. But the major contractors' return on investment demonstrates their ability to leverage political power to bolster their revenue.
The nation's largest contractor, Lockheed Martin Corp., has received $331 billion in federal dollars since October 2005. The Bethesda, Maryland-based company provides a vast array of goods and services to the U.S. government, ranging from devices used by Census takers to the development and building of the F-35 "Lightning II" jet fighter, the most expensive weapons program in the nation's history. The company has spent at least $140 million on lobbying and political contributions between October 2005 and September 2015, yielding a $2,366 return on every $1 invested in political influence.
Last year, Lockheed agreed to pay $4.8 million to settle charges that it had illegally used federal funds to lobby for a non-competitive extension of its contract to run Sandia National Laboratories. The lab manages the nation's nuclear weapons stockpile. A U.S. Department of Energy investigation found that a lobbyist hired by Lockheed, former New Mexico Republican Representative Heather Wilson, advised the company that it "should aggressively lobby Congress, but keep a low profile."
A spokesman for the company declined comment on the MapLight analysis.
The second- and third-largest contractors, Boeing Co. and General Dynamics Corp., together have received about the same amount of federal funds as Lockheed during that time. The Chicago-based Boeing, which took in $201 billion over the decade, spent $150 million on lobbying and campaigns, giving it a return of $1,341 for every $1 invested. General Dynamics, based in the Washington, D.C., suburb of Falls Church, Virginia, accumulated $136 billion in contracts, while spending $96 million on lobbying and political action committees. Its return amounted to $1,421 in contract revenue for every $1 invested in political influence.
Not all major contractors make major investments in lobbying and campaign contributions. The consulting firm Booz Allen Hamilton, based in the Washington, D.C., suburb of Tysons Corner, Virginia, has earned $29 billion in government contracts since October 2005. During the same period, it spent $80,000 on lobbying and none on political contributions, giving it a return of $362,564 for every $1 spent on political influence.
Booz Allen declined comment on the analysis. The firm has used the so-called "revolving door" between corporations and the federal government to hire some top officials, and some of the firm's executives have worked in key government positions. James R. Clapper Jr., the director of National Intelligence, served on the board of directors of Booz Allen before taking the nation's top intelligence job. John M. McConnell, who left Booz Allen to become director of National Intelligence under former President George W. Bush, returned to the company as a top executive in 2009.
The Pentagon spends more on contracting than any other federal agency. During the 2014 fiscal year, it paid out $285 billion to private businesses, more than all other federal agencies combined. That year, the Department of Defense provided most of the revenue for the majority of the top 25 federal contractors.
Health care firms also ranked among the largest contractors. Humana Inc., the Louisville, Kentucky-based health insurer, took in $1,609 in contracts for every $1 invested in political influence -- the median return on investment in political influence for the top 25 largest contractors. McKesson Corp., a pharmaceutical distributor, reported the most federal revenue of any health-care concern. The San Francisco-based company has received $43.8 billion in contracts during the last decade, while spending $12.6 million on lobbying and $4.4 million on political contributions, giving it a return of $2,585 for every $1 spent on political activity.
McKesson declined comment. According to its website, the company "seeks to educate elected and appointed officials about the solutions we offer to improve patient safety, reduce the cost and variability of care, and improve the quality and efficiency of healthcare delivery."
To Learn More:
For Top Federal Contractors, Investments in Lobbying, PACs Yield Big Returns (by Frank Bass, MapLight)
Government Contractors Pay Rate Increased by $190,000 to $950,000 a Year; Federal Employees get 1% Raise (by Matt Bewig, AllGov)
Contractors Account for 22% of Defense Dept. Workforce, but 50% of Workforce Cost (by Matt Bewig, AllGov)
In Midst of Pay Freeze, Some Federal Contractors May Earn Million-Dollar Annual Salary (by Noel Brinkerhoff, AllGov)
CEOs of Major Defense Contractors Earn More in a Day than Average U.S. Worker in a Year (by Noel Brinkerhoff and David Wallechinsky, AllGov)
28% of Federal Contract Funds Go to Just 10 Companies…All Make Weapons Systems (by Matt Bewig, AllGov)
Defense Dept. Gave $431 Billion to Contractors After They were Convicted of Fraud (by Noel Brinkerhoff, AllGov)