Contractors Account for 22% of Defense Dept. Workforce, but 50% of Workforce Cost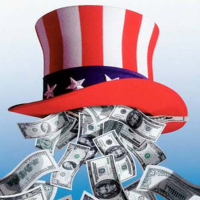 Despite claims that hiring private contractors instead of government employees yields greater efficiency and lower costs for taxpayers, information emerging from the across-the-board federal budget sequester suggests that privatization yields higher costs at the expense of taxpayers, but big profits for contractors. As government agencies try to implement the budget cuts in ways that do the least damage to their work, they—and we—are learning more and more about the inefficiencies of private contractors.
Take the case of the Defense Department (DOD), the largest federal bureaucracy, with 2.48 million federal employees and 700,000 contractor employees who generally work alongside civilian and uniformed employees. When Defense Secretary Chuck Hagel testified before the Senate Armed Services Committee last week that Pentagon budget cuts would include contractors, Sen. Dick Durbin (D-Illinois) pressed him on the issue of contractor inefficiency.
Durbin pointed out that a recent DOD report "emphasized that the average contract employee costs two to three times as much as the average DOD civilian employee for performing similar work, [and that] contract employees comprised 22% of [DOD's] workforce but accounted for 50% of its cost," figures confirmed on the spot by Defense Comptroller Robert Hale.
Given that these figures are true, why does the Defense Department, or other federal agencies for that matter, continue to hire so many high-priced contractors?
"Contractors are part of any institution. We need them [for] certain skills, certain expertise," explained Hagel, presaging comments by Hale, who admitted that the Pentagon lacks the personnel to perform financial audits on its own Planning, Programming, and Budgeting System (PPBS). Instead, DOD hires contractors to perform the audits, in violation of the Chief Financial Officers Act of 1990, which requires the Pentagon to gain the ability to audit its own books.
Not only is the Pentagon wasting taxpayer dollars on overpriced contractors, the contractors' role in running PPBS makes them, in the words of Defense contracting expert Chuck Spinney, "privy to—and in some cases deeply involved in—shaping the detailed decisions concerning how the Pentagon intends to spend its money over the next five or six years. That means, to put it charitably, there are conflicts of interest between the buyer and the sellers."
And higher government costs for the rest of us to pay for.
-Matt Bewig
To Learn More:
Pentagon Leaders Put Support Contractors on Notice for Deep Cuts (by Elaine M. Grossman, Global Security Newswire)
When Will the Contractors Contract? (by Chuck Spinney, POGO)
In Midst of Pay Freeze, Some Federal Contractors May Earn Million-Dollar Annual Salary (by Noel Brinkerhoff, AllGov)
CEOs of Major Defense Contractors Earn More in a Day than Average U.S. Worker in a Year (by Noel Brinkerhoff and David Wallechinsky, AllGov)
Defense Dept. Gave $431 Billion to Contractors After They were Convicted of Fraud (by Noel Brinkerhoff, AllGov)