In Midst of Pay Freeze, Some Federal Contractors May Earn Million-Dollar Annual Salary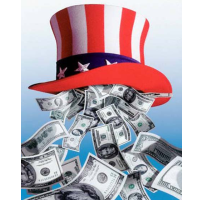 The federal government may soon be paying individual private contractors nearly $1 million a year, while federal employees continue to work under a pay freeze.
The payments are based on a federal formula established in 1997 for corporate senior executive compensation packages. Under the formula, the cap on contractor salaries—which was originally $250,000—has steadily increased, reaching $763,029 last year and now heading for $950,000.
"This wasteful expenditure of taxpayer dollars must stop," Joe Jordan, the administrator for federal procurement policy in the Office of Management and Budget, told the media.
Senator Joe Manchin III (D-West Virginia) told The Washington Post: "It's time we get contractors' salaries back in line with what we pay our courageous service men and women. It is outrageous that we pay some corporate contractors nearly four times as much as the secretary of defense."
President Barack Obama promised to do something to reduce the cap on compensation for defense and civilian contractor employees. But after failing to convince Congress to lower the cap to $200,000, the White House now is calling for a ceiling of $400,000. That is the equivalent of the president's salary, and the plan is to tie contractors' annual earnings to that. So when the president gets a raise, contractors' compensation cap will rise accordingly.
Some disapprove. Doing that would be "disingenuous," Stan Soloway, president of the Professional Services Council that represents contractors, told the Post. "The president's salary has no relationship to what high quality executive talent commands in the real world."
In the meantime, federal workers are in the third year of a basic pay rate freeze, which is in addition to wage reductions brought on by budget cuts and unpaid furlough days.
-Noel Brinkerhoff
To Learn More:
Some Federal Contractors Soon Can Get Nearly $1 Million a Year (by Joe Davidson, Washington Post)
White House Backing Down on Contractor Compensation Cap (by Scott H. Amey, J.D., Project On Government Oversight)
Defense Contractors Whine about Bill Limiting Executive Pay and Helping Small Businesses (by Noel Brinkerhoff, AllGov)
Pentagon Contractor Executives May be Limited to Billing Less than $700,000 a Year (by Noel Brinkerhoff, AllGov)
Government Ignores Law Limiting Executive Salaries of Contractors (by Noel Brinkerhoff, AllGov)