Top Energy Firms and U.S. Gov't No Match for Youths' Climate Change Lawsuit (Round 1)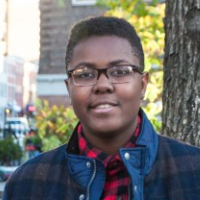 Plaintiff Victoria Barrett, age 16 (photo: Janita Lum, Epoch Times)
By Terrence Petty, Associated Press
PORTLAND, Ore. (AP) — The federal government and big energy companies lost an important round Friday in their effort to block a climate change lawsuit by young plaintiffs who contend the U.S. is failing to protect them from the harmful effects of greenhouse gas emissions.
U.S. Magistrate Judge Thomas Coffin in Eugene rejected motions by the U.S. government and trade groups representing the energy companies to dismiss the lawsuit by 21 plaintiffs ages 8 to 19.
A U.S. District Court judge has final say over whether the lawsuit will proceed to trial.
Oral arguments before Coffin last month drew hundreds of people who came to show their support for the youths, who contend the release of dangerous carbon dioxide emissions into the atmosphere is a violation of their constitutional rights.
They are demanding that the U.S. government be forced to create a plan that would significantly cut the emissions.
"The future of our generation is at stake," one of the plaintiffs, 16-year-old Victoria Barrett, said in a statement released after Coffin's decision by Our Children's Trust, a nonprofit environmental group in Eugene that filed the lawsuit.
"People label our generation as dreamers, but hope is not the only tool we have," the teen said.
Lawyers for energy companies argued that ruling in the plaintiffs' favor would cause them considerable harm, and that they are already subject to many environmental regulations under laws like the federal Clean Air Act (pdf).
Quin Sorenson, an attorney representing the trade groups, did not immediately respond to a voicemail seeking comment. Sean C. Duffy, representing the U.S. government in the case, referred questions to the U.S. Justice Department's press office, which did not immediately return a call seeing comment.
The defendants have 14 days to file objections to Coffin's recommendation.
Coffin wrote in his decision that the debate about climate change and its effects has been before various political bodies for some time now. There is a need for the courts to evaluate the "constitutional parameters of the action or inaction taken by the government," he said.
Attorneys for the plaintiffs hailed Coffin's ruling as a historic moment.
"The court gave America's youth a fair opportunity to be heard," attorney Philip Gregory said in a written statement.
To Learn More:
ExxonMobil May Only Be First of Oil Giants to Be Investigated for Obscuring Climate Science (by Steve Straehley, AllGov)
CEO Pay System at Top U.S. Energy Firms Rewards Execs for Deepening Climate Crisis (by Noel Brinkerhoff, AllGov)
Energy Industry, Blamed for Fueling Climate Change, May be At Risk from Its Effects (by Noel Brinkerhoff, AllGov)