Energy Industry, Blamed for Fueling Climate Change, May be At Risk from Its Effects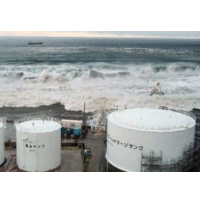 Tsunami hits Fukushima (photo: AFP)
The relationship between energy companies and climate change is one of what comes around, goes around, with those largely responsible for the onset of global warming now at risk of its effects.
It is estimated that energy providers generate 40% of the planet's greenhouse gas emissions through the use of coal-fired power plants and other carbon-heavy means, according to a new report from the World Energy Council (WEC), the University of Cambridge, and the European Climate Foundation.
These same facilities, however, are vulnerable to extreme weather and other effects brought on by changes in the earth's climate. For instance, the melting of polar ice means rising sea levels eventually will cause flooding in coastal areas, where many nuclear power plants operate. The Fukushima disaster in Japan, while not related to climate change, nonetheless demonstrated how at-risk energy operations near the ocean can be.
If it is not flooding, it is drought—another growing concern in this climate-change century—that could severely affect power plants, many of which rely on volumes of water for their operations. Rising water temperatures will also make it more difficult to cool plant equipment.
Oil and gas pipelines near coastal areas risk being hit by rising sea levels and those in the Arctic are in danger from thawing permafrost, which can affect the infrastructure of the lines.
"Climate change is certain to impact the energy sector," Christoph Frei, secretary general of WEC, said in a prepared statement.
Frei added that it is imperative for governments to adopt "robust and transparent policy frameworks to unlock the long-term investments that are urgently needed to deliver the future we want. Leadership will be required at all levels."
-Noel Brinkerhoff
To Learn More:
Energy Sector Faces Increasing Pressures from Climate Change - New Report (World Energy Council)
Rising Sea Levels and Extreme Weather Could Wreak Havoc on Energy Plants: Report (by Fiona Harvey, The Guardian)
Climate Change: Implications for the Energy Sector (World Energy Council, University of Cambridge) (pdf)
Big U.S. Firms on Board to Pay Carbon Fees, Signaling another Republican Party Rift (by Danny Biederman and Noel Brinkerhoff, AllGov)