Judge Blocks Defense Dept. Gas-Mask Test for Sikh U.S. Army Officer as Discriminatory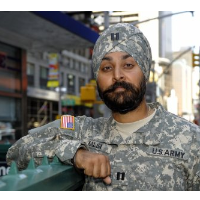 U.S. Army Captain Simratpal Singh (photo: Timothy A. Clary, AFP/Getty Images)
By Jeff D. Gorman, Courthouse News Service
WASHINGTON (CN) - A Sikh officer in the U.S. Army shouldn't be subjected to special helmet and gas mask tests because he wears a turban and beard for religious reasons, a federal judge ruled.
Simratpal Singh, an Army ranger, earned the Bronze Star while serving in Afghanistan during Operation Enduring Freedom.
However, as a captain in the Army, he is subject to grooming and hairstyle standards that conflict with his faith. As a practicing Sikh, Singh wears a turban, beard and unshorn hair.
While he was a cadet at West Point, Singh did not receive an accommodation for his religion, and his hair and beard were shaved. This caused him "significant shame and disappointment in himself," according to court records.
Singh rebounded by graduating with honors and a degree in electrical engineering. In addition to the Bronze Star, Singh has also earned an Army Achievement Medal for his work during a joint training exercise with the South Korean army.
After earning his Master's degree in electrical engineering last fall, Singh informed his commander that he intended to report to his next assignment while wearing his articles of faith: the turban, beard and unshorn hair.
Singh also submitted a written request for a religious accommodation. Assistant Secretary of the Army Debra Wada allowed him an interim accommodation that is scheduled to expire on March 31, court records show.
In order to make a final decision on Singh's request, Wada ordered him to undergo tests on his army helmet and gas mask to determine their compatibility with his articles of faith.
On the same day Singh completed a regular gas mask test with his fellow soldiers, Singh filed for a restraining order against "unusual or discriminatory testing."
U.S. District Judge Beryl Howell ruled last Thursday that Singh had satisfied the requirements for a temporary restraining order, including a likelihood for success on the merits of his claim for relief under the Religious Freedom Restoration Act.
The judge disagreed with the Defense Department's argument that its testing requirements for the helmet and gas mask would not burden Singh's religious rights.
"This view of the burden on the plaintiff is too myopic and ignores both the fact that the plaintiff is required to take these tests when other soldiers granted exceptions to the Army regulations regarding grooming and appearance are not and the fact that these tests directly affect whether the plaintiff receives a religious accommodation, and if granted, the scope of the accommodation," she wrote in a 32-page ruling.
Howell also stated that the Defense Department did not explain how Singh's beard would pose a potential safety hazard when U.S. Army Special Forces members in war zones can grow beards due to relaxed grooming standards.
"Similarly, the Army has granted medical exceptions to thousands of service members, allowing them to grow beards without any specialized gas mask testing," the judge wrote.
Howell added that the Army "singling out" Singh for the tests was "unfair and discriminatory" and that such treatment "has a clear tendency to pressure the plaintiff, or other soldiers who may wish to seek a religious accommodation, to conform behavior and forego religious precepts."
The judge enjoined the Army from subjecting Singh to "any non-standard or discriminatory testing for his helmet and gas mask" until the case is resolved.
On Friday, Howell ordered the government to notify the court by April 1 of any action taken on Singh's request for religious accommodation.
To Learn More:
After Serving in the Navy for 12 Years, Sailor Booted for Refusing to Cut her Hair (by Steve Straehley, AllGov)
Army Allows Sikh Doctor to Wear Beard and Turban (by Noel Brinkerhoff, AllGov)
Sikh Police Ask for Development of Bulletproof Turbans (by Noel Brinkerhoff, AllGov)