Pentagon Stonewalls U.S. Watchdog's Inquiries into $800 Million Afghanistan Program
Monday, November 09, 2015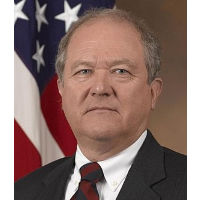 John Sopko
The Department of Defense has refused to cooperate with the Special Inspector General for Afghanistan Reconstruction (SIGAR), who wants to know what came of an $800 million economic development program.
SIGAR John Sopko says his office has been stonewalled over documents related to the Task Force for Business Stability Operations (TFBSO), which operated for five years, and shut down only six months ago. The Pentagon has told Sopko that there are no longer any personnel from the TFBSO available to discuss the program.
This appears particularly ridiculous given Joseph Catalino, the former acting director of the task force who was with the program for two years, still works at the Pentagon as Senior Advisor for Special Operations and Combating Terrorism, according to ProPublica. After inquiries by ProPublica, the Pentagon said Catalino would be made available for questions from Sopko.
"Frankly, I find it both shocking and incredible that DOD asserts that it no longer has any knowledge about TFBSO, an $800 million program that reported directly to the Office of the Secretary of Defense and only shut down a little over six months ago," Sopko wrote in a letter to Secretary of Defense Ash Carter.
Defense officials have denied SIGAR easy access to documents on TFBSO, which is unusual and possibly illegal given the inspector general's mandate to investigate Pentagon spending in Afghanistan. SIGAR has been told by the Pentagon that it can review materials related to the task force only in a Pentagon-controlled room on Department of Defense computers and it cannot remove documents without allowing the Pentagon to review and possibly redact them, ProPublica reported.
Despite the Defense Department's best efforts, Sopko has uncovered plenty of wasteful spending on the part of TFBSO, including a natural gas filling station that cost U.S. taxpayers $43 million.
-Noel Brinkerhoff
To Learn More:
Watchdog Accuses Pentagon of Evading Questions on $800 Million Afghanistan Program (by Megan McCloskey, ProPublica)
"Shocking And Incredible": IG Slams DOD For "Having No Knowledge" About $800 Million Program (by Tyler Durden, ZeroHedge)
Latest Spending Outrage in Afghanistan: Pentagon's $43 Million Gas Station (by Noel Brinkerhoff, AllGov)
What Happened to $1.3 Billion of Taxpayer Money Sent Directly to U.S. Military Officers in Afghanistan? Pentagon won't Say (by Steve Straehley, AllGov)
Pentagon Leads PR Campaign to Counter Critical Inspector General Reports on Afghanistan (by Noel Brinkerhoff and Danny Biederman, AllGov)