Pentagon Leads PR Campaign to Counter Critical Inspector General Reports on Afghanistan
Thursday, February 06, 2014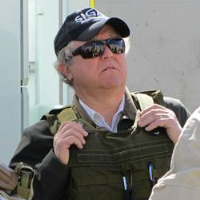 John Sopko in Afghanistan (photo: SIGAR)
Frustrated by numerous reports criticizing U.S. spending in Afghanistan, the Department of Defense has launched a public relations campaign aimed at countering the work of the Special Inspector General for Afghanistan Reconstruction (SIGAR). That watchdog agency is charged with overseeing the military's $96.5 billion reconstruction program in Afghanistan.
John Sopko, the head of SIGAR, has upset military commanders by frequently reporting on million-dollar programs that haven't panned out or failed to account for missing American tax dollars.
One recent example involved a hospital in northeastern Afghanistan costing $600,000 that lacked adequate water, sewer, electrical, and heating systems—and was vulnerable to collapsing in an earthquake, according to SIGAR.
The U.S. military countered SIGAR's report by issuing a news release that praised the hospital and even rejected some of the critical findings.
Somehow, the military came to these conclusions even though the Army hadn't inspected the hospital in months because the insurgency made the area too dangerous to visit.
In addition to putting out press releases, the military has crafted an in-house strategy for dealing with SIGAR's negative reports. This plan was revealed in a slide presentation, a copy of which was obtained by USA Today, that stated the goal was to "[build] the right combination of ammunition to achieve desired effects on a specified target."
That target was Sopko, who was mentioned in the presentation during a hunting analogy: "In the past we may have shot where we saw the duck, but now, with our plan of action—we will bag our limit of birds before Mr. Sopko wakes up to feed his dogs."
When informed of the anti-SIGAR campaign, Sopko told the newspaper: "It's disappointing to see that funds appropriated by Congress are being used by elements of the Department of Defense to misrepresent the work of an independent inspector general. American taxpayers would be better served if ISAF [International Security Assistance Force] spent less time writing misleading press releases and more time fixing the problems we've identified."
SIGAR spokesperson Philip LaVelle shares his boss's concerns. "Let me get this straight," he recently said to the Los Angeles Times. "They're complaining we're telling the American people how their tax dollars are being spent? The public has a right to know and we have a duty to tell them — and we intend to keep doing just that."
Since 2008, SIGAR's investigations have resulted in 56 criminal convictions or guilty pleas, involving nearly three dozen civilians and members of the U.S. military, along with 21 Afghans.
The Pentagon's overall public relations campaign—exercised at home and abroad—grew by 63% during a five-year period since 2004, reaching $4.7 billion in 2009, according to Defense Department budgets and other documents produced that year. The budget included the employment of 27,000 people to handle public relations, advertising and recruitment.
The military's budget for outreach and media amounts to 1% of the total Pentagon budget, according to Fox News.
-Noel Brinkerhoff, Danny Biederman
To Learn More:
The Pentagon's PR War Against SIGAR (by Neil Gordon, Project On Government Oversight)
Military Yanks Leash of Critical Government Watchdog (by Tom Vanden Brook, USA Today)
U.S. Embassy in Kabul Defends Itself Against Blistering Fraud Reports (by David Zucchino, Los Angeles Times)
Pentagon Spending Billions on PR to Sway World Opinion (Fox News)
Harsh Inspector General Report Says 0 of 16 Afghan Agencies can be Trusted with U.S. Aid (by Noel Brinkerhoff and Danny Biederman, AllGov)
U.S.-Led Military Unit in Afghanistan Lost $230 Million in Spare Parts, Then Spent $138 Million for More (by Noel Brinkerhoff, AllGov)
U.S. Paid $6.8 Million to "Maintain" Non-Functioning Afghan Police Vehicles (by Noel Brinkerhoff, AllGov)