Islamic State Oil Business Estimated at $500 Million a Year
Wednesday, October 28, 2015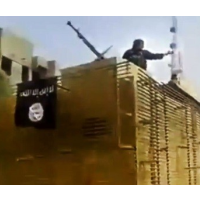 Islamic State flag flies over Iraqi refinery (photo: IS video via AP)
The Islamic State, or ISIS, is a well-oiled machine. Literally.
The terrorist group makes an estimated $500 million a year by selling oil from the fields it has captured in battle, despite U.S. and allied efforts to shut down the trade, according to the Associated Press. The group is even importing experts from Iraq and other countries and equipment via Turkey to keep the oil flowing.
ISIS is selling the oil at a steep discount from the world price of around $50 a barrel. The group extracts between 30,000 and 50,000 barrels a day from Iraq and Syria, which it then sells for $10 to $35 a barrel to smugglers. They, in turn, resell the oil to middlemen, mostly in Turkey. The oil is then taken in small tankers for processing. The group also keeps some oil that it refines for its use.
The Islamic State makes at least $40 million a month from oil sales. That, along with taxes on those in regions it controls and a stash of cash seized from Iraq's central bank branch in Mosul, enables the group to recover quickly from U.S. attacks on its infrastructure. The group's total income was believed to be $1.2 billion in 2014.
The Islamic State seized 11 oil fields in Syria in 2014, according to Manufacturing.net.
-Steve Straehley
To Learn More:
Despite U.S.-Led Campaign, Islamic State Rakes in Oil Earnings (by Hamza Hendawi and Qassim Abdul-Zahra, Associated Press)
ISIS' Illegal Oil Empire: By the Numbers (by Meagan Parrish, Manufacturing.net)
Looting Antiquities Second only to Oil as Source of Income for Islamic State (by Noel Brinkerhoff, AllGov)