Beholden to Saudi Royal Family, Obama Administration Welcomes Saudi Leadership of U.N. Human Rights Council despite Dramatic Increase in Beheadings
Sunday, September 27, 2015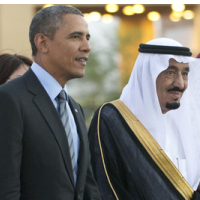 The Obama administration has expressed no reservations about Saudi Arabia chairing an international human rights body—in fact, officials say they "welcome" the kingdom's role, despite that government's increased use of execution by beheading.
Last week, the United Nations Human Rights Council selected the Saudi Arabian representative to serve as its chair.
That a member of one of the world's most repressive regimes should chair such a body "provoked indignation around the world," Glenn Greenwald wrote at The Intercept. Saudi Arabia had executed more than 100 people in the first six months of 2015, most by beheading, according to Amnesty International.
The strict Islamic government also has drawn attention for its planned beheading and subsequent crucifying of Ali Mohammed al-Nimr, the 21-year-old son of a prominent regime critic, who was convicted four years ago of demonstrating against the government.
When asked about Saudi Arabia chairing the UN Human Rights Council, State Department Deputy Spokesperson Mark Toner said, "We would welcome it. We're close allies."
Greenwald wrote that he recently interviewed a senior U.S. official who wished to remain anonymous who remarked: "The U.S. loves human-rights-abusing regimes and always has, provided they 'cooperate.' … The only time the U.S. government pretends to care in the slightest about human rights abuses is when they're carried out by 'countries that don't cooperate.'"
-Noel Brinkerhoff
To Learn More:
U.S. State Department "Welcomes" News That Saudi Arabia Will Head U.N. Human Rights Panel (by Glenn Greenwald, The Intercept)
Saudi Arabia Executes 'A Person Every Two Days' as Rate of Beheadings Soars under King Salman (by Adam Withnall, Independent)
Saudi Arabia Remains on U.N. Human Rights Council despite 19 Beheadings, including One for "Sorcery" (by Noel Brinkerhoff and Steve Straehley, AllGov)
State Dept. Blocks Publication of Study it Commissioned on Hate-Filled Saudi Textbooks (by Noel Brinkerhoff, AllGov)