Federal Court Orders Securities and Exchange Commission to Release Documents Related to Chiquita's Support of Terrorism in Colombia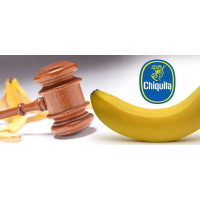 (photo: Andy Dean, Getty Images)
The Securities and Exchange Commission (SEC) has been ordered by a federal appeals court to release nearly 10,000 records to a university research group investigating Chiquita Brands International's support of a terrorist group in Colombia.
The National Security Archive, based at The George Washington University in Washington, DC, had to sue to get the documents, which were requested under the Freedom of Information Act (FOIA). It took its case to the U.S. Court of Appeals for the District of Columbia, which directed the SEC to release 9,257 pages of records produced by Chiquita related to the AUC payments.
The information was originally gathered by the SEC and the Department of Justice after the agencies had looked into allegations that Chiquita made illegal payments to the United Self-Defense Forces of Colombia (AUC), a terrorist organization according to the State Department.
Chiquita fought the release claiming it would compromise its chances in a Florida court, where victims of the AUC are seeking justice for crimes committed by the group. The three-judge Appeals Court panel's unanimous ruling (pdf) stated: "Neither the [Securities and Exchange] Commission nor the district court hearing this reverse-FOIA action thought release would deprive Chiquita of a fair trial. We agree with them."
"The court of appeals' decision is an important victory for FOIA requesters and the public," said Adina Rosenbaum, the Public Citizen attorney who represented the National Security Archive in the case. "The decision confirms that the government cannot withhold documents from the public just because they might be of interest to someone involved in litigation. A ruling for Chiquita would have created a huge exemption to the FOIA law, with far-reaching implications. The court did the right thing by rejecting Chiquita's argument that these records are exempt from disclosure."
In 2007, Chiquita pled guilty to charges that it had "engag[ed] in unauthorized transactions" with the AUC. Four years later, the National Security Archive published 5,500 pages of Chiquita's records that showed the corporation benefitted from its transactions with both AUC and insurgents from the FARC and ELN guerrilla groups.
The National Security Archive said that the latest batch of documents cleared for release had been identified by Chiquita as the most sensitive of all the records it had given up to the SEC during its investigations with the Justice Department.
"More than eight years ago, Chiquita became the first U.S. company to be convicted for engaging in transactions with a global terrorist organization," said senior Archive analyst Michael Evans. "Finally the victims of AUC violence and the general public will get a look at what might be the most important document collection ever assembled on corporate ties to terrorism."
-Noel Brinkerhoff, Danny Biederman
To Learn More:
Court Rejects Chiquita's Bid to Hide Terror Payment Records (National Security Archive)
Chiquita Brands International Inc. v. Securities and Exchange Commission (United States Court of Appeals for the District of Columbia Circuit) (pdf)
Rep. Goodlatte, the Congressman from Chiquita, Fights Bill to Help Victims' Families Sue Terrorists (by Steve Straehley, AllGov)
Former U.S. Hostages Sue Chiquita for Supporting Terrorists (by Noel Brinkerhoff, AllGov)