Rep. Goodlatte, the Congressman from Chiquita, Fights Bill to Help Victims' Families Sue Terrorists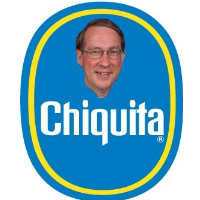 (graphic: Steve Straehley, AllGov)
Chiquita, the world's largest banana producer, is lobbying to stop a bill that would expand the right of family members of 9/11 victims to sue terrorists and those who fund them. So far, the company has been successful.
The Justice Against Sponsors of Terrorism Act (JASTA) would expand liability for attacks to those who helped fund them. The bill, which has bipartisan support, was conceived when family members of 9/11 victims ran into roadblocks in their efforts to sue supporters of the attacks, according to Tim Mak of The Daily Beast.
Why would Chiquita be fighting such a bill? The company previously paid Colombian terror groups when it did business in that nation. It's afraid—with good reason—that it might find itself liable for acts taken by those groups.
JASTA is now held up in the House Judiciary Committee, whose chairman Rep. Bob Goodlatte (R-Virginia) has been sympathetic to Chiquita's requests. In November, a delegation from 9/11 Families United For Justice Against Terrorism met with Goodlatte aide Zachary Somers.
According to The Daily Beast, members of the group were emotional in the meeting, while Somers acted bored and dismissive, and then said his boss objected to the legislation. When members of the group later met with Goodlatte himself, the Congressman asked one survivor, who spoke of her father's last words, "Weren't you compensated for that?" The survivor, an adult child of a victim, had not been paid a settlement.
Last month, Goodlatte let it be known he opposed the bill. "The Chairman and the lead staffer on this issue examined the legislation and received feedback from various companies and organizations about the effects of the legislation," a House Judiciary aide told The Daily Beast. "Numerous high-level groups in the business community oppose the legislation because the breadth of the proposed changes risks exposing law-abiding U.S. companies to frivolous lawsuits and potentially massive civil liability."
That liability could include paying damages to three men who are suing Chiquita after their plane was shot down by Colombian rebels and they were held hostage for five years. It might also include paying the widow of a missionary kidnapped and killed by the rebels in 1993.
-Steve Straehley
To Learn More:
Exclusive: Chiquita Is Blocking a 9/11 Victims' Bill (by Tim Mak, Daily Beast)
Former U.S. Hostages Sue Chiquita for Supporting Terrorists (by Noel Brinkerhoff, AllGov)
Families of Murdered U.S. Missionaries Sue Chiquita for Supporting Terrorists (by Noel Brinkerhoff, AllGov)