After Helping Bankers Dodge Personal Responsibility for Financial Collapse, Eric Holder Returns to Law Firm that Represents Biggest Banks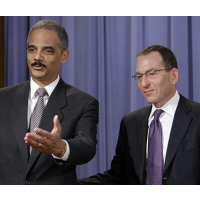 Eric Holder and Lanny Breuer (photo: Alex Brandon, AP)
Eric Holder is back where he appears to be most comfortable, helping big bankers.
The former U.S. attorney general who failed to bring criminal prosecutions against any of the nation's largest banks for causing the 2008 financial collapse has rejoined his old law firm, Covington & Burling, which he left in 2009 to join the Obama administration. The firm is well known for being a defender of Wall Street with a client list that has included Bank of America, Citigroup, JPMorgan Chase and Wells Fargo, according to The Intercept. Wells Fargo is still a client.
The Intercept also noted that during Holder's time in charge of the Department of Justice, the agency not only "failed to pursue criminal prosecutions of the banks responsible for the mortgage meltdown, but in fact de-prioritized investigations of mortgage fraud, making it the 'lowest-ranked criminal threat,' according to an inspector general report."
Holder will make at least seven figures at Covington & Burling. In addition, it will be a kind of Justice Department reunion for him. His former enforcement chief, Lanny Breuer, decamped for the firm in 2013. Breuer's company biography states that "he specializes in helping clients navigate financial fraud investigations, anti-corruption matters, money laundering investigations, securities enforcement actions, cybercrime incidents . . ." Just the kinds of crimes that often weren't pursued under Holder.
-Noel Brinkerhoff, Steve Straehley
To Learn More:
Eric Holder Returns As Hero To Law Firm That Lobbies For Big Banks (by Lee Fang, The Intercept)
Holder's Return to Covington Was Six Years in the Making (by Katelyn Polantz, National Law Journal)
Holder Deadline for Prosecuting Wall Street Executives for Financial Crisis Passes without a Single Charge (by Noel Brinkerhoff and Danny Biederman, AllGov)
Eric Holder's Last Chance to Prosecute Financial Meltdown Bankers (by Noel Brinkerhoff, AllGov)
Holder Claims Big Banks are Too Big to Jail (by Noel Brinkerhoff, AllGov)