Holder Claims Big Banks are Too Big to Jail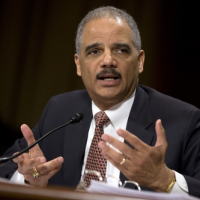 Eric Holder testifying before Senate Judiciary Committee March 6, 2013 (photo: Evan Vucci, AP)
Critics have wondered why the Obama administration has failed to criminally indict any leaders on Wall Street for causing the financial crisis several years ago.
This week, Attorney General Eric Holder offered a clear explanation for why the Department of Justice has been so soft on executives in the financial industry: Banks that are "too big to fail" are also "too big to jail."
"I am concerned that the size of some of these institutions becomes so large that it does become difficult for us to prosecute them when we are hit with indications that if you do prosecute, if you do bring a criminal charge, it will have a negative impact on the national economy, perhaps even the world economy," Holder told the Senate Judiciary Committee. "And I think that is a function of the fact that some of these institutions have become too large."
Holder's rationale for giving banking titans a free pass did not sit well with Robert Borosage, founder and president of the Institute for America's Future and co-director of its sister organization, the Campaign for America's Future.
Borosage called Holder's argument "indefensible," adding:
"There is no reason a bank with billions of assets could not survive the indictment of its CEO or CFO.…Putting a few bankers in jail and holding them personally accountable for their frauds would do much to bring sobriety back to Wall Street."
As Sen. Elizabeth Warren (D-Massachusetts) said in response to HSBC's fine for laundering drug cartel money, "If you're caught with an ounce of cocaine, the chances are good you go to jail. If you're caught repeatedly, you can go to jail for life….If you launder nearly a billion dollars in drug money, your company pays a fine and you go home and sleep in your own bed at night."
-Noel Brinkerhoff
To Learn More:
It's Official: Banks Too Big to Fail are Too Big to Jail (by Robert Borosage, Campaign for America's Future)
AG Says Megabanks Too Big To Jail (by Aaron Elstein, Crain's New York Business)
How Holder's Surprising 'Too Big to Jail' Admission Changes Debate (American Banker)
Justice Dept. Mistakes Slapping Wall Street Wrists for True Punishment for Fraud (by Matt Bewig, AllGov)
HSBC Hit with Fine for Helping Drug Cartels and Dictators; Executives Too Big to Jail (by Noel Brinkerhoff, AllGov)
Justice Dept. Defends Not Prosecuting Corporate Leaders for White-Collar Crime (by Noel Brinkerhoff and David Wallechinsky, AllGov)