Has U.S. Become the World's Prosecutor and Jailer for International Crimes?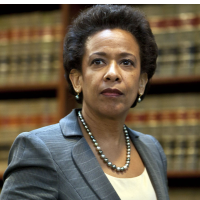 Loretta Lynch (photo: Getty Images)
The U.S. Justice Department is going after foreign terrorists and other criminals even though they have little or no connection with the United States.
This is likely to continue as long as Loretta Lynch is U.S. Attorney General. In her last job, "no federal prosecutor was more aggressive about expanding her office's global reach than Ms. Lynch when she was the United States attorney in Brooklyn," The New York Times wrote.
The recent indictments against nine officials of FIFA, the governing body of international soccer, and five associated sports marketing officials, were spurred by Lynch. Other suspects brought from overseas include suspected terrorist Madhi Hashi, who was arrested and brought to the United States even though he had no U.S. connection and was not plotting against this country. Abid Naseer, a Pakistan-born al Qaeda militant accused of plotting to set off a bomb in England, was tried in a Brooklyn federal court. Lawal Babafemi was convicted in Brooklyn of providing support for terrorism.
The United States has turned itself into "the jailer, the military front and now the prosecutor" of global crimes, particularly terrorism, Karen Greenberg, director of the Center on National Security at Fordham University School of Law, told the Times.
-Noel Brinkerhoff
To Learn More:
Growing Body of Law Allows Prosecution of Foreign Citizens on U.S. Soil (by Stephanie Clifford, New York Times)
FI-FA Fo Fum: Who Gets To Prosecute Non-Americans (by Robert Anello, Forbes)
Attorney General Lynch Demands Extradition of International Soccer Leaders for Corruption (by Noel Brinkerhoff, AllGov)