SAT Exam Popularity among China's Upper Class Fuels Chinese Undergrad Boom in U.S.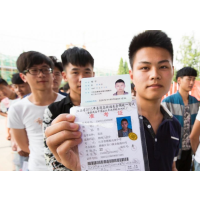 Students in China line up to take 2015 college entrance exam (photo: Imaginechina, AP)
High school students in the United States are at the head of the curve in musical and fashion tastes. But the hot trend among their Chinese counterparts probably seems decidedly old-school to American teens—taking the SAT.
Online test prep company ArborBridge has reported about 55,000 Chinese took the SAT in 2014. The total "reflects an increasingly international view of education for Chinese young people, not to mention their parents," according to Foreign Policy.
Most of those taking the SAT are from the upper class; only they can afford the prep classes for the test that can cost as much as $30,000.
The test has gotten so popular in China that its publisher has had to institute new anti-cheating measures there. In the last few weeks, 23 students were arrested for cheating on the exams, some of whom used wireless transmission equipment to get answers from remote test-takers they hired. To catch them, teachers have been using silent drones—each one costing tens of thousands of dollars—to fly around the classrooms monitoring transmission signals, according to a report by ABC News and Associated Press.
If the Chinese students succeed and come to the United States to study, they'll have plenty of company. Last year, there were 143,571 Chinese pursuing bachelor's degrees in the U.S., up from 24,248 only seven years ago. At one school alone, Columbia University, the Chinese student population went from 868 to 2,849 during that span.
Chinese nationals are now the fastest-growing student population at American institutions of higher education, comprising 31% of the international student population in the United States.
-Noel Brinkerhoff, Steve Straehley, Danny Biederman
To Learn More:
China's Hot New Luxury Product: the SAT (by Alexa Olesen, Foreign Policy)
Prep Services Get Chinese Students Into U.S. Schools (by Dina Gusovsky, CNBC)
Battle to Thwart SAT Cheating in Asia Continues (by Te-Ping Chen and Abby Schultz, Wall Street Journal)
Asian-American Students Outperform White Peers Due to Working Harder (by Noel Brinkerhoff, AllGov)
Chinese Government Accused of Sending Spies to Universities in U.S. and Australia (by Noel Brinkerhoff, AllGov)
Rich Chinese Flee to United States…and Bring Their Money with Them (by Noel Brinkerhoff, AllGov)