West Virginia Court Allows Illegal Prescription Drug Addicts to Seek Damages from Healthcare Providers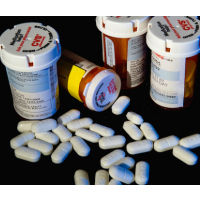 (photo: Paul J. Richards, AFP/Getty Images)
Healthcare providers can be sued for enabling addicts who abuse prescription drugs, according to the West Virginia Supreme Court.
The ruling stemmed from the case of Mingo County's Mountain Medical Center, which was raided by federal agents and later shut down for improperly prescribing painkillers. Nearly 30 patients of the facility sued Mountain Medical claiming doctors there helped feed their addictions with prescribed medicines.
One clinic physician, Dr. Katherine Hoover, was charged with illegally issuing hundreds of thousands of prescriptions for pain medications. She now lives in the Bahamas. A judge upheld the forfeiture of $88,000 of Hoover's, ruling it was the product of clinic proceeds.
Dr. William Ryckman and Diane Shafer and office manager Myra Miller of Mountain Medical each were sentenced to six months in federal prison for their guilty pleas to conspiring to misuse a Drug Enforcement Administration registration number, according to the Associated Press.
In a 3-2 decision, Chief Justice Margaret Workman said the plaintiffs were entitled to seek damages even though they themselves behaved illegally or immorally. Interestingly, "the majority noted that most, if not all, of the plaintiffs admitted their abuse of controlled substances occurred before they sought help at Mountain Medical Center," according to the AP.
Justice Allen Loughry, who dissented along with Justice Menis Ketchum, wrote: "There are no even remotely innocent victims here."
-Noel Brinkerhoff
To Learn More:
West Virginia Supreme Court Rules Addicts Can Sue Pharmacies, Doctors (by John Raby, Associated Press)
Court Paves a Way for Suits by 'Pill Mill' Users (by Amanda Loviza-Vickery, Courthouse News Service)
Supreme Court to Decide if Addicts Can Sue (by Linda Harris, WOWK-TV)
Pharmacists' Duty to Warn (National Association of Chain Drug Stores) (pdf)
FDA Panel Advises Limiting Prescription Refills for Addictive Painkillers (by Matt Bewig, AllGov)
Prescription Drugs Cause More Deaths than Illegal Drugs (by Noel Brinkerhoff, AllGov)