Polish Government Agrees to Pay Victims of CIA Torture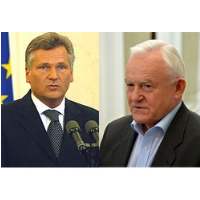 Aleksander Kwaśniewski and Leszek Miller
Poland is making good on a European Court of Human Rights judgement that it compensate two terror suspects tortured by the Central Intelligence Agency (CIA) on a remote base in that country.
The court ruled last July that Poland should pay Abu Zubaydah 130,000 euros (about $147,000) and Abd al-Rahim al-Nashiri 100,000 euros (about $113,000) because it allowed the CIA to imprison them, and government authorities failed to stop their "torture and inhuman or degrading treatment." Saturday was the deadline for the payment and Poland has said it would comply with the court's ruling.
"This secret rendition program was generated by the CIA, but it could not have taken place without the active collaboration of states like Poland," Amrit Singh, a lawyer with the Open Society Justice Initiative who represented al-Nashiri before the European court, told the Associated Press. "Had states like Poland said no to this, torture would not have happened."
Al-Nashiri has been accused in connection with the October 12, 2000 attack on the USS Cole in which 17 sailors were killed and is being held in Guantánamo, as is Zubaydah, who has been in U.S. custody since March 2002, but has never been charged with a crime.
Bartlomiej Jankowski, a Polish lawyer representing Zubaydah, said his client wants his money to go to an organization that helps women and children displaced or otherwise victimized by war, according to the AP.
The CIA paid Poland as much as $50 million to use the Stare Kiejkuty intelligence base to interrogate prisoners it brought in from other countries. Former President Aleksander Kwaśniewski and then-Prime Minister Leszek Miller, who allowed the use of the base, may even be subject to prosecution.
Many Poles feel betrayed that their country, so recently subject to abuses under Communist rule, was used as a torture site by the United States. "This left bad feelings on our side. We are a small country that was badly treated by a great power," Tadeusz Chabiera, a founder of the Euro-Atlantic Association think tank in Warsaw and one of the brokers of Poland's membership in the North Atlantic Treaty Organization, told The Los Angeles Times.
-Steve Straehley
To Learn More:
Poland Makes Payout to Alleged Victims of CIA Renditions (by Vanessa Gera, Associated Press)
Poland Feels Sting of Betrayal Over CIA 'Black Site' (by Carol J. Williams, Los Angeles Times)
European Union Court Slams Poland for Helping U.S. Torture Program (by Noel Brinkerhoff, AllGov)
CIA Paid $15 Million Cash to Create a Torture Prison in Poland (by Noel Brinkerhoff, AllGov)
Poland Charges Ex-Spy Chief over Involvement in Bush Torture Program (by Noel Brinkerhoff and David Wallechinsky, AllGov)