European Union Court Slams Poland for Helping U.S. Torture Program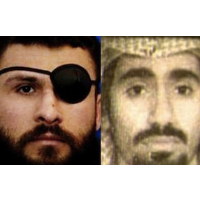 Abu Zubaydah and Abd al-Rahim al-Nashiri
Poland was found guilty by Europe's top human rights court of helping the George W. Bush administration torture terrorism suspects on its soil.
The European Court of Human Rights announced Thursday that it found the Polish government had allowed the Central Intelligence Agency (CIA) to run a secret prison north of Warsaw where high-value detainees were kept and tortured.
Poland's actions constituted a violation of the European Convention on Human Rights, the court ruled. It also was faulted for not looking into what happened to Abd al-Rahim al-Nashiri, a Saudi national implicated in the 2000 attack on the USS Cole, and Abu Zubaida, a Palestinian born in Saudi Arabia whom U.S. officials say facilitated militant training, while they were in CIA custody.
Nashiri was subjected to a mock execution and had a drill put to his head while blindfolded at the black site code-named "Quartz," according to information collected by The Washington Post.
The court said: "For all practical purposes, Poland had facilitated the whole process, had created the conditions for it to happen and had made no attempt to prevent it from occurring."
The court ordered Poland to pay 130,000 euros (about $175,000) to Abu Zubaida and 100,000 euros (about $135,000) to Nashiri.
A Polish presidential spokeswoman, Joanna Trzaska-Wieczorek, a spokewoman for Polish President Bronislaw Komorowski said: "The ruling of the tribunal in Strasbourg on CIA jails is embarrassing for Poland and is a burden both in terms of our country's finances as well as its image."
Joseph Margulies, Abu Zubaida's attorney, praised the decision, telling the Post: "It is obviously an historic judgment that vindicates what we have said for years and now can no longer be denied. The CIA ran a black site prison in Poland, with the full knowledge and complicity of the Polish government, where Abu Zubaida was brutally tortured."
Abu Zubaida and Nashiri were eventually moved to the U.S. prison camp at Guantanamo Bay, Cuba, where they have remained since. Nashiri is facing a military trial for his role in the USS Cole attack in Yemen. Abu Zubaida is being held without charge.
-Noel Brinkerhoff
To Learn More:
Secret Rendition and Detention by the CIA in Poland of Two Men Suspected of Terrorist Acts (European Court of Human Rights) (pdf)
European Court Finds Poland Complicit in CIA 'Torture,' Orders Detainee Compensation (by Adam Goldman, Washington Post)
EU Court Rips Poland Over CIA Black Sites (by William Dotinga, Courthouse News Service)
Poland Broke Human Rights Convention on Al-Qaida Suspects Held by the CIA (by Ian Cobain, The Guardian)
Case of Al Nashiri v. Poland (European Court of Human Rights)
CIA Paid $15 Million Cash to Create a Torture Prison in Poland (by Noel Brinkerhoff, AllGov)