Poland Charges Ex-Spy Chief over Involvement in Bush Torture Program
Wednesday, April 04, 2012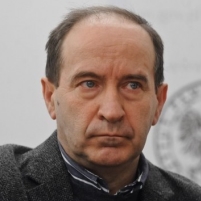 Zbigniew Siemiatkowski (photo: Tomasz Urbanek, East News)
Unlike President Barack Obama, who has refused to prosecute American intelligence agents involved in the kidnapping and torture of terrorism suspects, leaders in Poland have charged their former top spymaster for helping the
Central Intelligence Agency
(CIA) imprison detainees in their country.
Zbigniew Siemiatkowski, the former head of Poland's intelligence service, faces charges of violating international law by "unlawfully depriving prisoners of their liberty" while allowing the CIA to hold and interrogate detainees at a secret base near Szymany Airport, north of Warsaw. Siemiatkowski was the intelligence chief from 2002 to 2004, the period when the CIA prison in Poland was in operation.
The New York Times reported that all three of the CIA prisoners who are known to have been waterboarded spent time in Poland, including Khalid Shaikh Mohammed, the architect of the September 11, 2001, attacks; Abd al-Rahim al-Nashiri, who is charged in the 2000 bombing of the American destroyer Cole; and Abu Zubaydah, who ran a terrorist camp and facilitated militants' travel.
The Polish media reported that former Prime Minister Leszek Miller, who served in office last decade while the extraordinary renditions took place, may, at the least, be called to testify. Poland's president at the time, Aleksander Kwasniewski, has said that he didn't know about the CIA prison until U.S. President George W. Bush thanked him during a visit to Poland in June 2003. Bush's thanks were "so profuse" that Kwasniewski knew "something was not right" considering that Polish support for U.S. military operations in Afghanistan and Iraq had been relatively limited.
"We try to treat our Constitution seriously and try not to forget the fact that there was a manifest violation of the Polish Constitution within the country's borders," Adam Bodnar, vice president of the
Helsinki Foundation for Human Rights
, based in Warsaw, told
The New York Times
. He added, "I remember the lessons of constitutionality given by the Americans in the early '90s, always saying to us, you have to create a new constitution and every action by state authorities must have limits. Poland has just learned this lesson well."
-Noel Brinkerhoff, David Wallechinsky
To Lean More:
Obama Justice Dept. Refuses to Help Polish Torture Probe (by Noel Brinkerhoff and David Wallechinsky, AllGov)