In Change of Tactic, Obama Administration Arrests Suspected Terrorist rather than Killing him with a Drone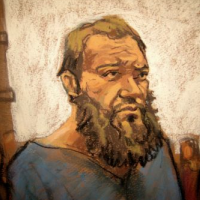 Court artist rendering of Mohanad Mahmoud Al Farekh (photo: Jane Rosenberg, AP)
The political fallout from the Obama administration's controversial move four years ago to assassinate an American overseas who was accused of terrorism ties prompted officials to take a different approach with another U.S. citizen working with al Qaeda.
In 2011, the Central Intelligence Agency used a drone to kill Anwar al-Awlaki in Yemen. The U.S.-born cleric was placed on a government "hit list" of individuals considered too difficult to capture, leading to a death-without-trial order given by President Barack Obama.
But when it came time to make a decision about another American, Mohanad Mahmoud Al Farekh (aka Abdullah al-Shami), it was Attorney General Eric Holder Jr. who urged the White House to try a different strategy, according to The New York Times.
While the Pentagon, the CIA, and some members of Congress had urged that Farekh be assassinated, Holder reportedly "was skeptical of the intelligence dossier on Mr. Farekh, questioning whether he posed an imminent threat to the United States and whether he was as significant a player in Al Qaeda as the Pentagon and the C.I.A. described. Mr. Holder and his aides also thought it might be possible to capture Mr. Farekh and bring him to trial," the Times' Mark Mazzetti and Eric Schmitt reported.
Indeed, the Texas-born Farekh was arrested last year in Pakistan by the country's security forces after the CIA provided information on his whereabouts. He now will stand trial in Brooklyn on charges that he provided material support to al Qaeda. If he is convicted, Farekh will face a maximum sentence of 15 years in prison, according to a Department of Justice press release.
In spite of outcome, the fact that high-level, closed-door meetings occurred in which Farekh's killing was debated is "chilling," ACLU deputy legal director Jameel Jaffer told the Times. "Senior intelligence officials have assured the public that drone killings are a last resort. But the C.I.A. and Pentagon don't appear to have internalized that principle."
Micah Zenko, a scholar at the Council on Foreign Relations who studies counterterrorism strikes, told the Times that Farekh's case is "an example that capturing can be done."
-Noel Brinkerhoff
To Learn More:
Terrorism Case Renews Debate Over Drone Hits (by Mark Mazzetti and Eric Schmitt, New York Times)
American Citizen Charged With Conspiring to Provide Material Support to Terrorists (U.S. Department of Justice)
United States v. Muhanad Mahmoud al Farekh (U.S. District Court, Eastern New York) (pdf)
Global Manhunt for Canadian Students (by Greg Mcarthur, Patrick White, Joe Friesen, Christie Blatchford, Marten Youssef, Colin Freeze, The Globe and Mail)
Aiming for Two Militant Leaders in Pakistan, U.S. Drone Pilots Killed 233 People, including 89 Children (by Steve Straehley, AllGov)