Oregon Farm Bills Seek to Regulate Antibiotics in State Agriculture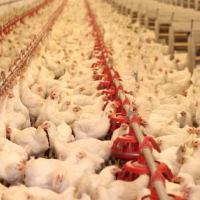 Factory farm in Oregon (photo: OSPIRG)
The Oregon legislature is moving toward restricting the use of antibiotics on the factory farms in the state with the goal of decreasing the spread of antibiotic-resistant bacteria.
The Oregon House and Senate are considering similar bills that would prohibit giving antibiotics to healthy animals and force factory farms to report how they're using the drugs. Such operations around the country give low doses of antibiotics to animals that are not sick. Rather they are used to promote growth and to combat diseases they might contract from being held in tight quarters filled with excrement. "It's like never bathing your kids then giving them antibiotics everyday so they don't get pink eye," Dave Rosenfeld, executive director of consumer advocacy group OSPIRG (Oregon State Public Interest Research Group), told the Statesman-Journal in Salem, Ore.
About 70% of antibiotics sold in the United States are used on healthy animals. This overuse of the drugs causes bacteria to mutate and become resistant to antibiotics. When those bacteria find their way into humans—through dust, soil, water and food contaminated with the animals' feces—the diseases they cause are often difficult to treat. Every year, 2 million Americans become sick with infections that are resistant to antibiotics, and 23,000 die from their illness, according to the Centers for Disease Control and Prevention (CDC). Factory farms are the main culprits because they are the most excessive users of antibiotics.
Such use has been criticized by the World Health Organization, the Infectious Diseases Society of America, the American Medical Association and the American Academy of Pediatrics. Those groups signed a 2011 letter that read in part, "the evidence is so strong of a link between misuse of antibiotics in food animals and human antibiotic resistance that FDA and Congress should be acting much more boldly and urgently to protect these vital drugs for human illness."
Oregon's legislation would affect all farms in the state that raise livestock, swine and poultry, though the bills' reporting requirement would apply only to EPA-defined Concentrated Animal Feeding Operations, of which there are a little over 100 in Oregon. One is run by chicken marketer Foster Farms, which was linked to an outbreak of antibiotic-resistant salmonella in 2013 and 2014 that sickened 634 people in 29 states, according to the CDC.
If either bill becomes law, Oregon would likely become the first state in the country to regulate antibiotics in factory farms. The new regulations would, however, rely on self-enforcement. In cases where farms are found to be in violation, the state attorney general would intercede.
-Steve Straehley
To Learn More:
Oregon Legislature Targets Antibiotics in Factory Farms (by Saerom Yoo, Statesman-Journal)
Oregon Seeks to Become First State to Limit Antibiotic Use at Factory Farms (by Deirdre Fulton, Common Dreams)
Doctors, Nurses and Farmers Support Legislation to Curtail Antibiotics Overuse In Oregon (OSPIRG)
HB 2598 & SB 920: Protecting Antibiotics (pdf) (OSPIRG)
House Bill 2598 (Oregon State House of Representatives)
Senate Bill 920 (Oregon State Senate)
23,000 Americans Die Annually from Antibiotic-Resistant Infections (by Noel Brinkerhoff, AllGov)
FDA Phase-Out of Livestock Antibiotics is Only Voluntary and Partial (by Noel Brinkerhoff and Danny Biederman, AllGov)
Failure to Curb Use of Antibiotics in Livestock Signals Danger for Humans (by Noel Brinkerhoff, AllGov)