Failure to Curb Use of Antibiotics in Livestock Signals Danger for Humans
Thursday, October 24, 2013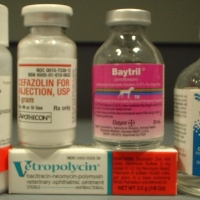 Despite repeated warnings from experts, the federal government under President Barack Obama has continued to allow farmers to pump livestock with antibiotics intended for humans, which has increased health risks for Americans.
A new study (pdf) from the Johns Hopkins Center for a Livable Future (JHCLF) blamed the lack of meaningful change in livestock-antibiotics policies on the agricultural and pharmaceutical industries, which have lobbied to block new laws and regulations from being adopted.
Members of Congress and officials with the Food and Drug Administration (FDA) have caved to industry pressures, even though evidence shows the overuse of antibiotics in livestock has made these drugs less effective in treating human infections.
Bob Martin, executive director of the JHCLF, told The Washington Post that FDA statistics reveal as much as 80% of the antibiotics sold in the U.S. are fed to cattle, pigs, chickens and other farm animals—a practice that reduces the efficacy of the drugs when it comes to fighting deadly infections in people.
Currently, about 23,000 patients die from antibiotic-resistant infections each year, according to the Centers for Disease Control and Prevention.
The Johns Hopkins study echoed the concerns of a 2008 report (pdf) on industry practices by a Pew Charitable Trusts commission of scientists that involved the Johns Hopkins Bloomberg School of Public Health. This earlier study also warned that the nation must back off on feeding antibiotics to animals.
The FDA has developed new guidelines that would require farms to stop using antibiotics specifically to bulk up food animals. But the rules would allow the drugs' continued use for disease control. This latter provision is so loosely defined, Martin said, that there would be no practical change in the use of antibiotics.
"In a couple of areas, the Obama administration started off with good intentions. But when industry pushed back, even weaker rules were issued," he told the Post. "We saw undue influence everywhere we turned."
The new report was authored by a commission chaired by former Kansas governor John Carlin (D) and that included former U.S. agriculture secretary Dan Glickman, ranchers, and experts in public health and veterinary medicine.
The report's message was echoed in a dire warning issued by Mary Wilson of the Harvard School of Public Health: "We will see common infections become fatal," just as they were before the invention of antibiotics, she told the Post.
-Noel Brinkerhoff
To Learn More:
Report: Feeding Antibiotics to Livestock is Bad for Humans, but Congress Won't Stop It (by Melinda Henneberger, Washington Post)
Industrial Food Animal Production in America: Examining the Impact of the Pew Commission's Priority Recommendations (John Hopkins Center for a Livable Future) (pdf)
FDA Quietly Ends Attempt to Regulate Antibiotics in Animal Feed (by Noel Brinkerhoff, AllGov)
80% of U.S. Antibiotics Go to Farm Animals (by Noel Brinkerhoff, AllGov)