World's Biggest Banks in Fresh Crosshairs of U.S. Justice Department…But Will Anyone Go to Jail?
Wednesday, October 08, 2014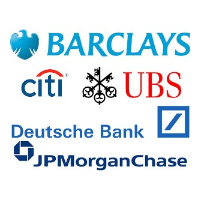 (graphic: Steve Straehley, AllGov)
Federal prosecutors are preparing new charges against some of the biggest banks over efforts to manipulate currency prices, and this time, they say, bank employees—but not top executives—may face jail time.
The cases being built by the U.S. Department of Justice focus on Deutsche Bank, Citigroup, JPMorgan Chase, Barclays and UBS and possibly a dozen or more altogether, according to The New York Times. The currency cases could also lead to actions against Deutsche Bank and at least one trader for illegally manipulating the London interbank offered rate, or Libor, which is a rate banks use to set their rates for everything from business loans to credit cards.
As for going after bank leaders, the Times reports any "charges will most likely focus on traders and their bosses rather than chief executives."
If this proves to be true, it will be another case in which outgoing Attorney General Eric Holder has failed to punish the barons of Wall Street for their schemes, whether it involved currency trading or mortgage-backed securities. After all, not a single banking CEO or vice president has been criminally prosecuted for helping cause the 2008 financial crisis.
Others say the blame for zero executive prosecutions should be directed at President Barack Obama.
"I blame Holder. I blame Timothy Geithner," former bank regulator William K. Black told Bill Moyers in a television interview. "But they are fulfilling administration policies. The problem definitely comes from the top. And remember, Obama wouldn't have been president but for the financial contribution of bankers."
-Noel Brinkerhoff
To Learn More:
Big Banks Face another Round of U.S. Charges (by Ben Protess and Jessica Silver-Greenberg, New York Times)
Too Big to Jail? (by Bill Moyers, Moyers and Company)
Justice Department Takes Lead in International Investigation of Big Banks (by Noel Brinkerhoff, AllGov)
Holder Claims Big Banks are Too Big to Jail (by Noel Brinkerhoff, AllGov)