House Votes to Block Easy Disclosure of Corporate Financial Statements
Friday, September 19, 2014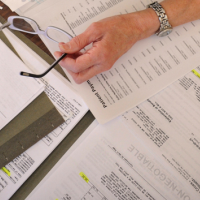 (photo: Don Petersen, AP)
The U.S. House of Representatives decided this week that a paper world is better than an electronic one for corporate business filings with federal regulators, even if it means making transparency more opaque.
With the adoption of H.R. 5404—legislation said to have been designed to help small businesses—lawmakers embraced an important change that would force the Securities and Exchange Commission (SEC) to exempt public companies making less than $250 million a year from filing their financial statements electronically, according to the Sunlight Foundation, an independent government watchdog group. Such a change in the law would affect more than half of all public companies in the United States, said the group.
The change "represents a significant blow against transparency as these companies will now only be required to file their statements on paper, making it harder to analyze the potentially vital data," Matthew Rumsey wrote for the Sunlight Foundation.
"Instead of helping multi-million dollar companies avoid modern disclosure requirements, Congress should be helping the SEC ensure that it is collecting accurate data in a machine-readable format fit for the modern age," he added.
The group has called on members of the U.S. Senate to strip out the SEC reporting language from the bill, which includes non-related provisions regarding veterans' health services, before voting on it.
-Noel Brinkerhoff
To Learn More:
House Moves To Restrict Open Data on Corporate Financial Statements (by Matthew Rumsey, Sunlight Foundation)